Birth Name (real name):
Huda Heidi Kattan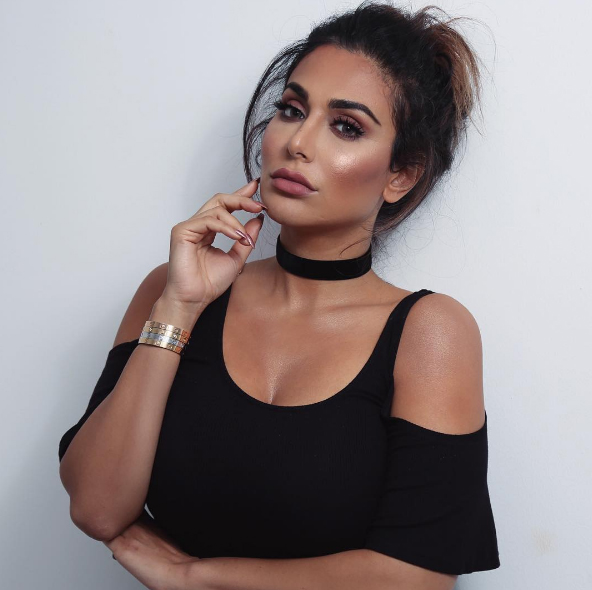 Height
5′ 7″ (1.70 m)
Weight
155 lbs (approx)
Body Measurements
Biography, Facts, Family
Huda Kattan is a professional make-up artist who is well known among celebrities in Hollywood and around the world. Huda is of Iraqi parents and was born in Oklahoma, the same home state for stars such as Blake Shelton and Dr. Phil McGraw. Her family moved to Cookeville, Tennessee when she was only two years old and that's where she grew up. Her parents are from Iraq and met each other here in the USA. Her father was a mechanical engineer and mother a teacher.
Huda is now a successful Instagram beauty blogger, business woman and top beauty influencer, who resides in Dubai. Her makeup tutorials have touch the lives of people all over the world. She create videos based on beauty tutorials: makeup, hair, nails, beauty DIY (hacks, skincare) and GRWM – Get Ready With Me. She has done collaborations with Goar Avetisyan (Russia makeup artist), Lisa Eldridge, Brian Champagne, her husband Chris and even her father. She admits that she is a worker holic, who still find time for her husband and family. They have a daughter named Nour Giselle.
Nicknames:
Net Worth:
Her net worth is $4.5 million according to richcelebs.com.
Age – Date of Birth:
October 2, 1983
Birth Sign / Zodiac:
Libra
Place of Birth:
Oklahoma
Nationality:
American
Educational Background:
High School:
University / College: She studied finance at the University of Michigan-Dearborn.
Family / Parents:
Mother name – Susu Al Qazzaz
Father name – Ibrahim Kattan
Siblings – Alya, Mona, and Khalid
Job – Occupation:
Makup Artist, Beauty blogger and Business Woman.
Body:
Average
Dating History Boyfriend / Spouse:
Huda got married to Husband Christopher Goncalo on May 3, 2009. They met in college and moved to Dubai in 2006.
Ethnicity:
Middle Eastern decent.
Color of Hair:
Her hair color is black.
Colors of Eyes:
Brown
Physical Distinctive Features:
She has debunked the chatter about her getting a nose job. Henna Tattoos and ear piercings.
Style, makeup, Dress and hair style:
Her dress style is influenced by both the western and middle eastern cultures.
Plastic Surgery:
Yes. In an interview she said; "I have gone under the knife. I've never said I haven't had plastic surgery. I've talked about fillers."
Brand Ambassador For:
Huda Beauty lashes
Religious Belief:
Muslim
Well Known For:
She is well known as a makeup artist
List of Facts / Trivia:
1. Huda has two sisters Alya, Mona, and one brother Khalid.
2. She has come a far way from having to live in one apartment to another, to now having 14.8 million followers in August 2016.
3. It was her older sister Alya who got her into makeup and she would practice one her youngest sister Mona, won the Little Miss Tennessee pageant.
4. She read about makup artist such as Jackie Gomez and Pat McGrath fefore she started blogging.
5. Huda started her blog Huda Beauty, in 2010.
6. She communicate with followers in both Arabic and English.
7. Huda is the Kylie Jenner of the Arab world.
You may also like:
Rachel Bunny Meyer Height Weight Body Measurements
Monique Lynn Height Weight Body Measurements
Instagram: hudabeauty
Youtube: HudaHeidiK