Methodology of The Travel Nursing Social Media Study
In order to gauge sentiment, HRA analyzed company mentions in two Facebook groups, "Travel Nurse Network – The Gypsy Nurse" and "Travel Nurse Housing – The Gypsy Nurse". The privacy setting for both groups is "Public" which means any and all comments made in the groups are publicly available. The data was collected between November 1, 2015 and February 29, 2016.
HRA analyzed each individual post in the groups to determine whether the post exhibited positive, neutral or negative sentiment toward a company. HRA considered the context of the conversation and a series of keywords to make the determination. For example, a comment like, "Company X is amazing" constitutes positive sentiment. Moreover, the final data-set included only positive and negative comments, so neutral comments were excluded.
Two criteria were used to screen respondents. First, respondents could not be recruiters or representatives of Travel Nursing companies; only comments from travel healthcare professionals were considered. Second, each respondent was aligned with one comment per company to ensure data was not duplicated. For example, a respondent who made 5 comments about the same company was counted only once.
When all was said and done, HRA's data set included 924 unique respondents and 981 total comments. Typically, national political polls are considered valid if they include 1,000 respondents and there are over 140 million registered voters. By contrast, there are anywhere from 20,000 to 30,000 travel healthcare professionals. It's fair to say HRA used a large enough sample size for this study to be considered valid.
Findings of The Study
The study has a couple of key findings. The first key finding is that the overall sentiment towards travel nursing companies is overwhelmingly positive. Over 81% of all mentions were found to be positive while just over 18% were negative. That means positive comments accounted for 802 of the 981 total comments.
The Mindshare of Travel Nursing Companies
The study's second finding pertains to "mindshare". Mindshare is defined as "relative public awareness of a phenomenon" or, "the amount of consumer awareness or popularity surrounding a particular product or brand."
To measure mindshare, HRA counted the number of mentions each company received. The more mentions a company received, the higher their mindhsare. Overall, twelve companies accounted for 737 of the 981 total comments. That means over 75% of all comments were made about these 12 companies and only 25% were made about every other company in the industry. The implication is that these 12 companies have a significant lead when it comes to awareness and popularity.
Positive vs. Negative Perception of Travel Nursing Companies
Next, HRA tallied the number of positive, neutral, and negative comments about each company in order to determine whether each company is viewed positively or negatively. Then, they compiled a list of the positively perceived companies and ranked them by mindshare.
To qualify for the list a company needed to have a minimum of 20 comments. This criteria was used to control for small sample sizes. Additionally, a company needed to be "positively perceived" which required a minimum of 51% positive comments. All the companies on this list far exceeded that criterion. In fact, on average, 91% of the comments referencing the companies on this list were positive. Companies with 50% or fewer positive comments were determined to have a negative perception and thus not included on the list. Here is the list:
Top 11 Travel Nursing Companies with Positive Reputations as Ranked by Mindshare
Aya Healthcare
Medical Solutions
Fastaff
Trustaff
Cross Country
Aureus Medical
PPR
Atlas MedStaff
Flexcare
Fusion Medical Staffing
Travel Nurse Across America
Mindshare of Positively Perceived Travel Nursing Companies
The graph below illustrates the number of mentions each of the positively perceived companies received.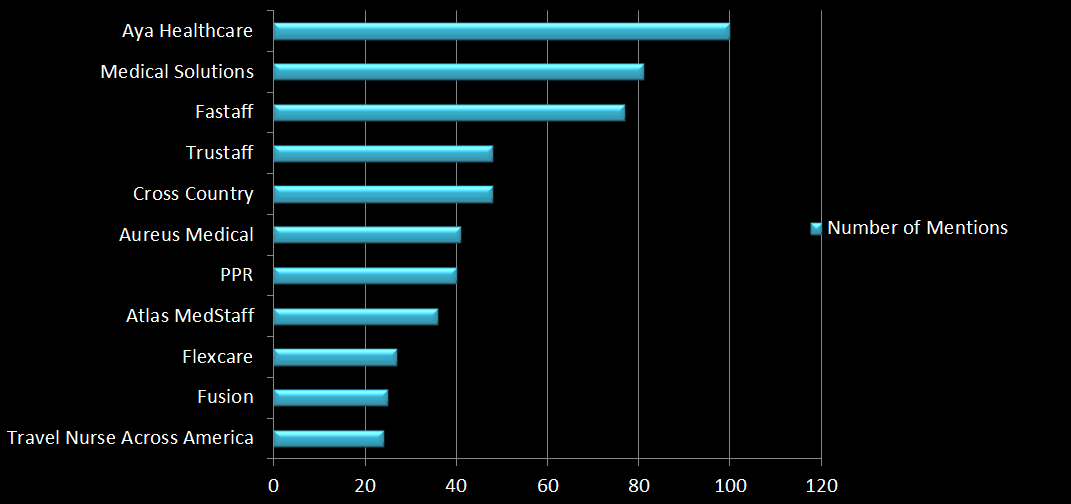 Of the companies with more than 20 comments, AMN Healthcare, the nation's largest healthcare staffing company, was the only company that was excluded from the list of positively perceived companies. With 50% of the comments referencing AMN determined to be negative, they did not qualify as "positively perceived."
Taking a closer look at the data, HRA found that most of the negative comments about AMN Healthcare pertained to poor experiences the commenters had with the company. Moreover, a significant percentage of the negative comments were related to payroll complications. Furthermore, the study's authors pointed out that "most" of the positive comments AMN received had "low saliency". In other words, they weren't enthusiastically positive. Take this comment for example:
My experience is that there is nothing wrong with AMN, you just have to have a good recruiter.
Meanwhile, a majority of the comments about the other companies had "high saliency". For example:
I looooove Aya. The company is wonderful and my recruiter is fantastic.
or…
Atlas is amazing. You won't be disappointed.
Travel Nursing Company Ratings / Reviews versus Social Media Mentions
Aggregating Company Reviews for Convenience
As mentioned at the outset of this article, there are many websites offering features and services specifically designed for rating travel nursing companies. Despite this, it's becoming increasingly popular for travel nurses to use social media as a means to determining the trustworthiness and appeal of travel companies. The two approaches are quite different and each has its advantages and disadvantages.
One of the advantages of rating websites is that they provide easily attainable aggregate information. In other words, the user simply needs to visit the website to see all the reviews for a specific company in one place.
By contrast, travelers typically ask questions on social media and wait for the responses to roll in. For example, the traveler might ask, "What do you think about Company X?" The responses could be different from time to time depending on who happens to be online when the question is posted.
Of course, you can also perform a search by company name in the social media group in an effort to see all the comments made about the company in the group. However, the search capability on social media sites like Facebook is horrendous. It's highly unlikely that you'll receive results which include all mentions of the search-term. While this is still a better approach than simply asking a question, if everyone did it, then there would be no new information for us to benefit from.
This is part of the reason why the study presented here is so useful. It effectively aggregates all the data for a specified period of time to provide us with a snapshot of how travelers perceive individual companies and the industry as a whole.
The Incentive for Negative Reviews
One of the common criticisms of rating and review websites is that the incentive to provide negative reviews is stronger than the incentive to provide positive reviews. The logic is that we're naturally more inclined to exact revenge than we are to bestow virtue.
We're neutral on this issue. However, it's interesting to note the following. The social media study found the overall percentage of positive mentions about companies on social media to be 81.8%. Meanwhile, the weighted average of all the reviews on Travel Nursing Central as of the writing of this article is 79 out of a possible 100. So, it looks like the two are pretty close.
The Incentive for Positive Reviews
Of course, the opposite could be true. One of the less common criticisms of rating and review websites is that there is actually a greater incentive for positive reviews to be published. Some argue that company representatives submit fake reviews and/or pay people to post fake reviews. We believe this is highly unlikely given the consequences of getting caught.
However, many argue that some companies promote reviews to their travelers. For example, a company might have their recruiters request reviews during service calls. Or, the company might send out email notifications with requests for reviews and links that will take readers to review websites.
As evidence, they point to the inordinately high number of reviews that many small and mid-sized companies receive on popular review websites. For example, Flexcare, which is a small to mid-sized company based in Roseville, California has over 600 reviews on Travel Nursing Central. However, Cross Country TravCorps, which quite possibly has 5 to 10 times the number of travelers working for them, has only 73 reviews.
We can't be certain whether or not agencies are engaging in this type of promotion. However, it would certainly be difficult to execute such a strategy on social media. This is why many of the companies with the highest mindshare in the social media study are among the larger companies in the business.
This is a strong indication that these companies have been able to scale-up while maintaining topnotch service levels. That's great news for travel nurses. While we always advocate working with multiple companies in order to gain maximum exposure to the job market, it's true that larger companies tend to have access to more jobs than their smaller counterparts. As result, this study suggests that travelers can get the benefit of great service in addition to increased exposure to job opportunities by working with some of these larger companies.
In all, this study is great news for travel nurses. It demonstrates that the companies they rely on for a great experience are, by and large, providing a high level of service. Of course, we'd love to hear what you think! Please post your comments and questions on BluePipes Forums!
The post The Top 11 Travel Nursing Companies According to Travel Nurses on Social Media appeared first on BluePipes Blog.