If you have a heart, you will be easily moved by these videos. You cannot stop yourself from crying because you can also feel the sadness inside the woman's heart. Aside from the loss of her child, Baby Treb David, Joy Ganda Vibar-Alamares is probably having goosebumps when a White Eco-friendly Latex Balloon flew from the Coffin, going directly to her.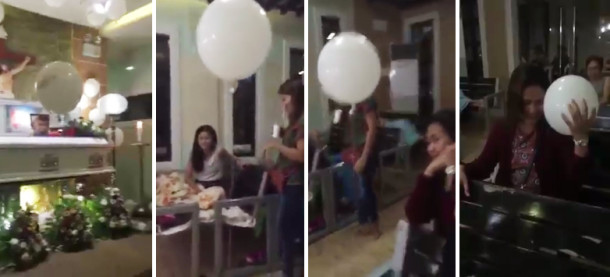 Dead Baby in a Balloon Hugging & Kissing a Mom
Seemingly hard to believe because of the situation, one cannot easily manipulate this spooky video of a balloon hugging the Mother of dead child. Taken by Joy's sister-in-law Kaypee Alamares, the viral video has reached 3-million views already. Posted 40 days after her son passed away, Joy recalled the moment as #OneLastHug. The video was posted in November 2, 2015 but it was only recently when the video got very viral. Based on the video's location, the family is from Daraga, Albay, where the famous Cagsawa Ruins are located.
"Heartbreaking yet hopeful, the video is definitive proof that miracles do happen especially to people who need to be reassured that they—the departed—have already found the kind of peace that must pacify the living", according to Ralph Revelar-Sarza, the bestfriend of Kaypee.
Obviously, the mother misses the child a lot and she cannot help herself from crying every time she watches the video. Even us, the persons not related to the baby or the family, can cry over this touching video.
Because of the power and reach of social media platforms, we occasionally see funeral videos but not of this kind. This one is simply telling us that God works in mysterious ways. Through the White Balloon, which obviously lacks Hydrogen or Helium, the Baby is assuring his Mother that he will be okay in heaven. The all-powerful God is probably giving Baby Treb David a chance to hug and kiss her mom, through this White Balloon, which signifies light, goodness, innocence, purity, and virginity. It is considered to be the color of perfection. White means safety, purity, and cleanliness.
Be sure to prepare a handkerchief or tissue paper before watching the video because you will surely be moved by this spooky but very touching video.
It's been 40 days baby since ng bakasyon mo with papa god, miss na miss kana ni mamy 󾌹 thank u for the hugs and kisses, for the pure sincere genuine LOVE 󾌯 i love you sobra damok mamy, alam mo yan 󾌯󾌹󾍂 #hastalavista#onelastHUG

Posted by Joy Ganda Vibar-Alamares on Sunday, November 1, 2015
Here is another video...
Here's another touching footage. With God, everything is possible. What you are about to see can't be explained and...

Posted by Kaypee Alamares on Thursday, February 11, 2016