#1 Giant Snails
The Achatinidae family of land snails consist of three species the giant African snail (Achatina fulica), the giant tiger land snail (Achatina achatina), and the giant West African snail (Archachatina marginata). All three of these species feed voraciously and vector plant pathogens, causing severe damage to agricultural crops and native plants. Also, they compete with native snail populations, they are a nuisance pest of urban areas, and they spread human disease. The giant African snail in particular, is listed as one of the top 100 invasive species in the world. The giant tiger land snail is routinely confiscated by quarantine authorities at US airports. These very large snails are kept as pets in the Western world, where owners prize their large size, distinctive markings, and rarity.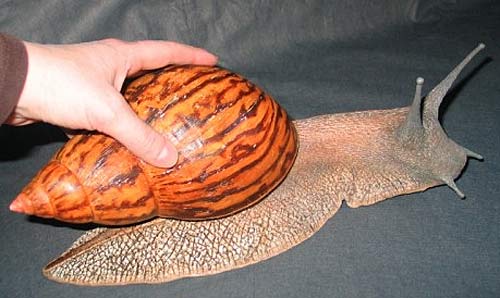 Giant Tiger Land Snail
Giant Tiger Land Snail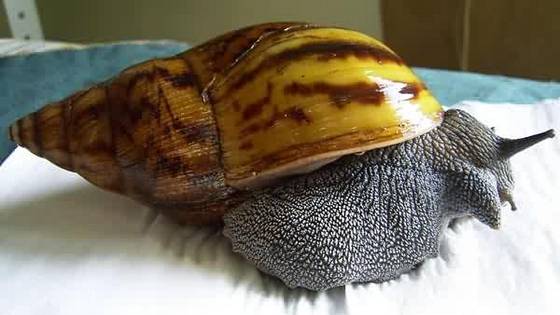 Giant Tiger Land Snail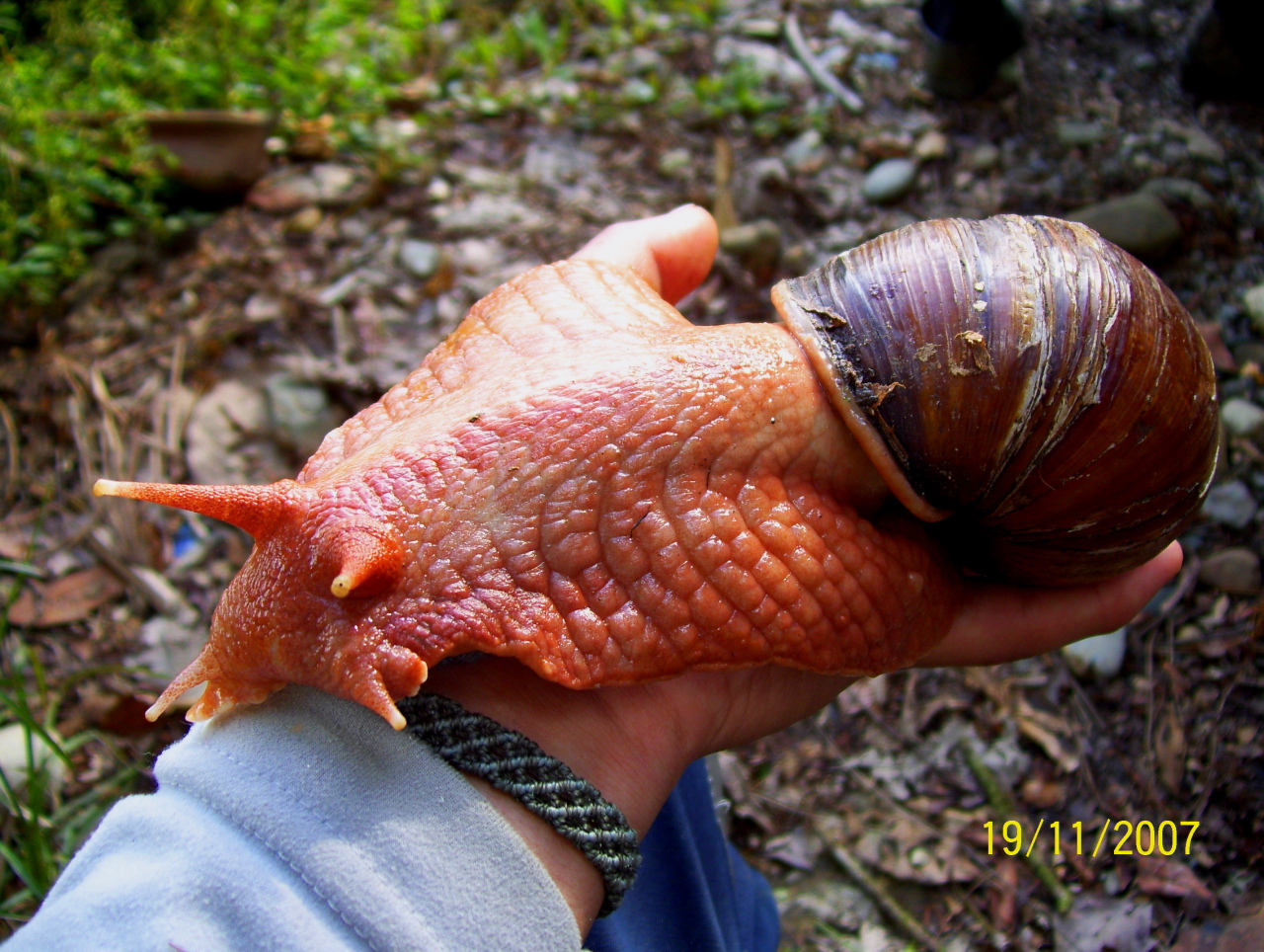 Giant West African Land Snail
Giant Tiger Land Snail
#2 Giant Dobsonflies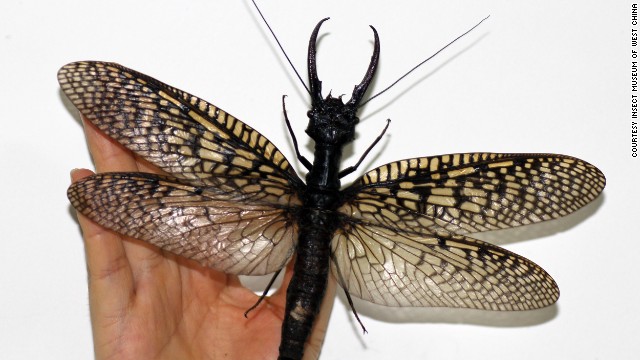 Dobsonfly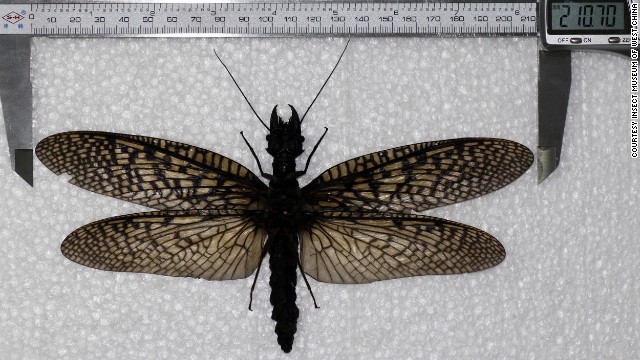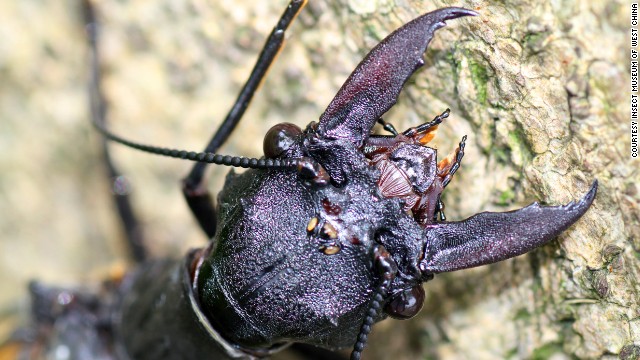 Recently, an expedition to the outskirts of Chengdu brought back dobsonflies, boasting 8.3-inch wingspans and "giant snake-like fangs." This weird bug beat out the previous record holder for largest aquatic insect - the South American helicopter damselfly, which had a wingspan of 7.5 inches. Several of these odd critters were examined by the museum and found to be unusually large specimens of the giant dobsonfly, which is native to China and Vietnam. The largest one measured 21 centimeters (8.27 inches), when its wings were open. This amazing insect is also known among entomologists as an indicator of water quality. The giant dobsonfly makes its home in bodies of clean water and is highly sensitive to any changes in the water's pH as well as the presence of trace elements of pollutants. If the water is slightly contaminated, the giant dobsonfly will move to seek cleaner waters.
Dobsonfly (Corydalus)
Dobsonfly (Corydalus)
Eastern Dobsonfly (Corydalus cornutus)
#3 Giant Moths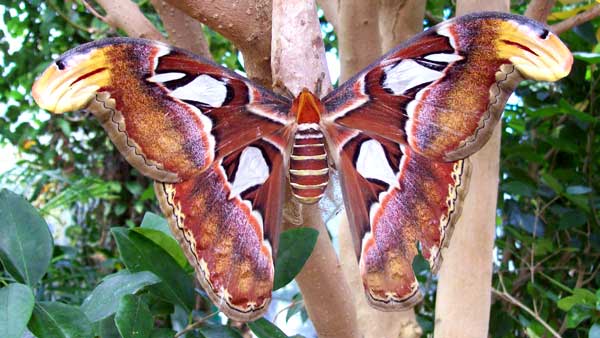 Atlas Moth
The Atlas moth (Attacus atlas) is a large saturniid moth found in the tropical and subtropical forests of Southeast Asia, and is common across the Malay archipelago. Atlas moths are considered the largest moths in the world in terms of total wing surface area, reaching upwards of c. 400 cm2 (62 sq in). Their wingspans are also among the largest, reaching over 25 cm (10 in). Females are appreciably larger and heavier.
White Witch Atlas Moth (largest wingspan)
The largest lepidopteran in terms of wingspan is thought to be the White Witch, Thysania agrippina. A record specimen of Attacus atlas from Java measured 262 mm, while Thysania are claimed to be about 270–280 mm (11 in). Based on some spread specimens and angle of wing, actual measurements of around 289 mm have been estimated.
In India, Atlas moths are cultivated for their silk in a non-commercial capacity; unlike that produced by the related Silkworm moth (Bombyx mori), Atlas moth silk is secreted as broken strands. This brown, wool-like silk is thought to have greater durability and is known as fagara. Atlas moth cocoons have been employed as purses in Taiwan.
(s)
Atlas Moth Cocoons (used as purses in Japan)
#4 Giant Jellyfish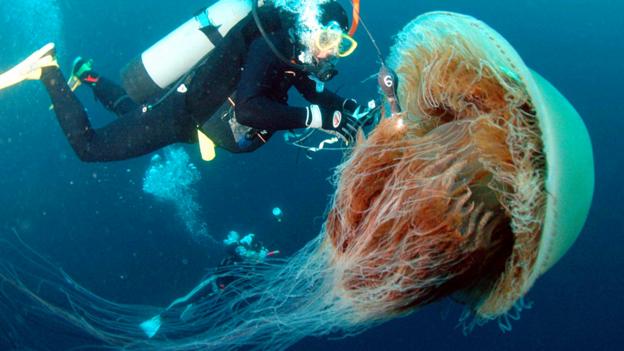 Nomura Jellyfish beside diver.
Lion's Mane Jellyfish
Nomura's Jellyfish (Nemopilema nomurai) is a very large jellyfish, in the same size class as the lion's mane jellyfish, the largest cnidarian in the world. It is edible but not considered high quality. Growing up to 2 m (6.6 ft) in diameter and weighing up to 200 kg (440 lb), Nomura's Jellyfish reside primarily in the waters between China and Japan, primarily centralized in the Yellow Sea and East China Sea.
(s)
Nomura Jellyfish
The lion's mane jellyfish (Cyanea capillata), also known as hair jelly, is the largest known species of jellyfish. Its range is confined to cold, boreal waters of the Arctic, northern Atlantic, and northern Pacific Oceans. The largest recorded specimen found, washed up on the shore of Massachusetts Bay in 1870, had a bell (body) with a diameter of 2.3 metres (7 ft 6 in) and tentacles 37 m (120 ft) long.

(s)
Lion's Mane Jellyfish
Lion's Mane Jellyfish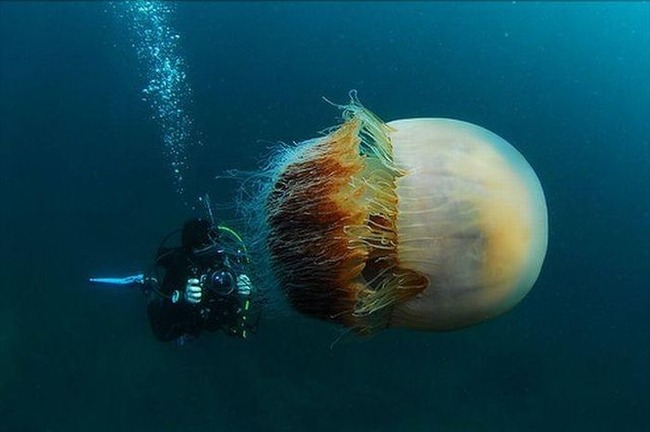 Lion's Mane Jellyfish
#5 Giant Grasshoppers
Giant Weta
Giant weta are several species of weta in the genus Deinacrida of the family Anostostomatidae. Giant weta are endemic to New Zealand and are examples of island gigantism. There are eleven species of giant weta, largest species can be up to 10 cm (4 in) not inclusive of legs and antennae, with body mass usually no more than 35 g. One captive female reached a mass of about 70 g (2.5 oz.), making it one of the heaviest documented insects in the world and heavier than a sparrow. The largest species of giant weta is the Little Barrier Island giant weta, also known as the wetapunga. One example reported in 2011 weighed 71 g, and a 72 g specimen has been recorded. Specimens of giant weta have been found in Štip, Macedonia and California.
(s)
Wetapunga
#6 Giant Beetles
Titan Beetle
The Titan beetle (Titanus giganteus) is a neotropical longhorn beetle, the only one in the genus Titanus, and the second-largest known beetle. Adults can grow up to 6.5 inches (16.7 cm) in length. Of all known beetles, only the Hercules beetle, Dynastes hercules, in which giant males occasionally can grow to 7 inches (over 17.5 cm), is longer than the Titan beetle, but the Hercules beetle males have an enormous horn on the pronotum or thorax making up around half of its total length. As such, the body of the Titan beetle is considerably larger than that of the Hercules beetles. It is known that the short, curved and sharp mandibles can snap pencils in half and cut into human flesh. Adult titan beetles do not feed, searching instead for mates.

(s)
Titan Beetle
Hercules Beetle
The Hercules beetle (Dynastes hercules) is the most famous and the largest of the rhinoceros beetles. It is native to the rainforests of Central America, South America, and the Lesser Antilles. The beetle has also been observed as far north as Southern Veracruz in Mexico. Their title is well deserved, with some able to lift more than 850 times (up to 8 kg lifted) their own weight and some males, rarely, reaching 17 cm (6.75 inches) in length. It is the largest of the six species in the Dynastes genus, and one of the largest beetles known, being exceeded in length by only two other beetles in the family Cerambycidae, Macrodontia cervicornis (specimens of 17–17.5 cm are known) and the Titan Beetle. However, if the horns are excluded, both M. cervicornis and D. hercules drop considerably leaving the Titan Beetle on top.

(s)
Larvae of Hercules Beetle
#7 Giant Walking Sticks
Giant Walking Stick
A female specimen of Phobaeticus chani, the world's longest insect.
The Phasmatodea (sometimes called Phasmida or Phasmatoptera) are an order of insects, whose members are variously known as stick insects (in Europe and Australasia), walking sticks or stick-bugs (in the United States and Canada), phasmids, ghost insects and leaf insects (generally the family Phylliidae). The ordinal name is derived from the Ancient Greek φάσμα phasma, meaning an apparition or phantom, and refers to the resemblance of many species to sticks or leaves.
The best known of the stick insects is the Indian or laboratory stick insect (Carausius morosus). These insects grow to roughly 10 cm (3.9 in). They reproduce parthenogenically and males are unrecorded, although part-male, part-female gynandromorphs are relatively common.

(s)
Giant Walking Stick
Giant Walking Stick
Giant Walking Stick
#8 Giant Cockroaches
Rhinoceros Cockroach
Giant Burrowing Cockroach (Rhinoceros Cockroach)
The giant burrowing cockroach (Macropanesthia rhinoceros) is also known as the rhinoceros cockroach and litter bug. They are native to Australia and mostly found in tropical parts of Queensland. They are the world's heaviest species of cockroach (although Blaberus giganteus is the longest) and can weigh up to 35 g (1.2 oz) and measure up to 80 mm (3.1 in) in length. They can live for up to 10 years. Unlike some other cockroaches, they do not have wings and are not considered pests. The cockroach plays a vital part in the ecosystem by consuming dead leaves, eucalyptus in particular, and recycling other matter.
(s)
Megaloblatta longipennis is a species of insect blatodeo the family Ectobiidae. With a wingspan of up to 20 cm, it is the largest winged cockroach in the world. It is found in Ecuador, Peru, and Panama.
(s)
Megaloblatta Longipennis (Largest Winged Cockroach)
#9 Giant Butterflies
Queen Alexandra's Birdwing (Ornithoptera alexandrae) is the largest butterfly in the world, with females reaching wingspans slightly in excess of 25 cm (9.8 inches). It is restricted to the forests of the Oro Province in eastern Papua New Guinea.
The species is endangered, and is one of only three insects (the other two being butterflies as well) to be listed on Appendix I of CITES, making international trade illegal.
The species is also highly prized by collectors, and because of its rarity this butterfly fetches a very high price on the black market, reportedly US$8,500-10,000 in the United States in 2007. In 2001, renowned Canadian researcher Gilles Deslisle was fined CA$50,000 for illegally importing six specimens of Queen's Alexandra's birdwings. In 2007, "global butterfly smuggler" Hisayoshi Kojima plead guilty to 17 charges after selling a number of endangered butterflies, including a pair of Queen Alexandra's birdwings priced at US $8,500, to a special agent with the U.S. Fish and Wildlife Service.
Early collectors, frustrated by the height at which adults fly during the day, often used small shotguns to down specimens, but because collectors demand high quality specimens for their collections, most specimens are reared from larvae or pupae.
Although collectors are often implicated with the decline of this species, habitat destruction is the main threat.
(s)
#10 Giant Crayfish
The Tasmanian giant freshwater crayfish (Astacopsis gouldi), also called Tasmanian giant freshwater lobster, is the largest freshwater invertebrate in the world. The species is only found in Tasmania (an Australian island), and is listed as an endangered species due to habitat loss and over fishing. It is also severely threatened by siltation and de-snagging of streams as decaying wood forms the favorite part of its diet.
Individuals of over 5 kilograms (11 lb) in weight and over 80 centimetres (31 in) long have been known in the past, but now, even individuals over 2 kilograms (4.4 lb) are rare. The species is only found in Tasmanian rivers flowing north into the Bass Strait below 400 metres (1,300 ft) above sea level, and is listed as an endangered species on the IUCN Red List.

(s)
In Australia (on the eastern seaboard), New Zealand and South Africa, the term crayfish or cray generally refers to a saltwater spiny lobster, of the genus Jasus that is indigenous to much of southern Oceania, while the freshwater species are usually called yabby or kōura.
Murray Crayfish (Euastacus armatus) With a vast geographic range, the Murray Crayfish are found in the Murray and Murrumbidgee rivers as well as many tributaries in Australia.
#11 Giant Crabs
The Tasmanian giant crab, Pseudocarcinus gigas (sometimes known as the giant deep-water crab, giant southern crab or queen crab) is a very large species of crab that resides in the southern waters of Australia on the edge of the continental shelf.
The Tasmanian giant crab is one of the largest crabs in the world, reaching a mass of 13 kilograms (29 lb) and a carapace width of up to 46 centimetres (18 in). It is the only species in the genus Pseudocarcinus. Males reach more than twice the size of females.
The Tasmanian giant crab has been commercially fished in Tasmanian waters since 1992. Following concerns surrounding the sustainability of catch numbers, the total allowable catch was adjusted in 2004 to 62.1 tonnes (137,000 lb). Twenty-five operators competed for the catch in 2005, delivering a total catch valued at about $2 million. The Tasmanian giant crab is very long-lived and slow-growing, making it vulnerable to over-fishing.

(s)
The Japanese spider crab (Macrocheira kaempferi), is a species of marine crab that lives in the waters around Japan. It has the largest leg span of any arthropod, reaching up to 3.8 metres (12 ft) and weighing up to 19 kilograms (42 lb). It is the subject of small-scale fishery which has led to a few conservation measures.
Apart from its outstanding size, the Japanese spider crab differs from other crabs in a number of ways. The first pleopods of males are unusually twisted, and its larvae appears quite similar to primitive specimens. The crab is orange, with white spots along the legs. It is reported to have a gentle disposition, despite its ferocious appearance.

(s)
#12 Giant Centipedes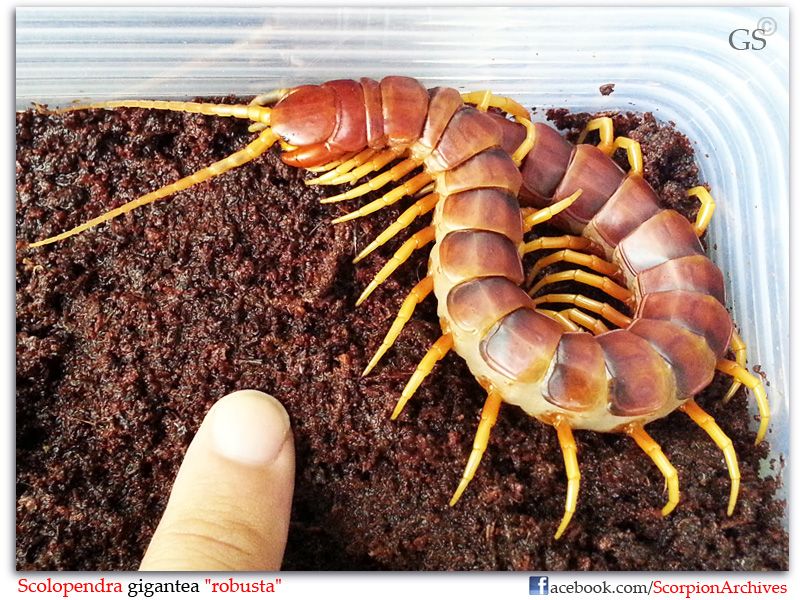 Scolopendra gigantea, also known as the Peruvian giant yellow-leg centipede or Amazonian giant centipede, is one of the largest representatives of the genus Scolopendra with a length up to 30 cm (12 in). It can be found in various places of South America and the Caribbean, where it preys on a great variety of animals, including other sizable arthropods, amphibians, mammals and reptiles. These arthropods have surged in popularity among collectors of exotic pets. They are known to be very aggressive and nervous.
The venom of Scolopendra gigantea is potent, containing acetylcholine, histamine and serotonin (pain mediators), proteases and a cardiodepressant factor. These constituents are fatal to most small animals including their prey and are toxic to humans, in which they can cause severe pain, swelling, chills, fever, and weakness. However, they are unlikely to be fatal to humans, except those who are allergic to the toxins.

(s)
Ethmostigmus rubripes, the giant centipede, is the largest Australasian and Asian centipede. Head and body length 7.5 to over 16 cm (6¼ inches). The body is long and flattened. Ethmostigmus rubripes also have various subspecies which may explain the many colour forms of this species.

(s)
#13 Giant Spiders
The giant huntsman spider (Heteropoda maxima, from maximus, meaning "the largest") is a spider of the Heteropoda genus. It is considered the world's largest spider by leg-span. The huntsman appears to be a cave dweller and was discovered in Laos in 2001.
The giant huntsman spider is found in Laos, and is probably a cave dweller because of its pale color, long legs and special hairs on the second foot of the male.
There is no apparent reduction of the eyes in the Giant Huntsman Spider, however, this is possibly because the species live near cave entrances rather than deep within the cave.

(s)
The Solifugae are an order of animals in the class Arachnida known variously as camel spiders, wind scorpions, sun spiders, or solifuges. The order includes more than 1,000 described species in about 153 genera. Much like a spider, the body of a solifugid has two tagmata: an opisthosoma (abdomen) behind the prosoma (that is, in effect, a combined head and thorax).
Unlike scorpions, solifugids do not have a third tagma that forms a "tail". Most species of Solifugae live in dry climates and feed opportunistically on ground-dwelling arthropods and other small animals. The largest species grow to a length of 12–15 cm (5–6 in), including legs. A number of urban legends exaggerate the size and speed of the Solifugae, and their potential danger to humans, which is negligible.
Members of this order of Arachnida apparently have no venom, with the possible exception of one species in India (Rhagodes nigrocinctus) as suggested in one study, and do not spin webs. Due to their bizarre appearance, many people are startled by or even afraid of them. This fear was sufficient to drive a family from their home when one was discovered in a soldier's house in Colchester, England, and caused the family to blame the solifugid for the death of their pet dog. They are not venomous, although they are capable of inflicting a painful bite with their powerful jaws. (s)
A tarantula hawk is a spider wasp which hunts tarantulas as food for its larvae. Tarantula hawks belong to any of the many species in the genera Pepsis and Hemipepsis in the family Pompilidae (spider wasps). The more familiar species are up to 5 cm (2 in) long, with blue-black bodies and bright, rust-colored wings (other species have black wings with blue highlights), making them among the largest of wasps.
The vivid coloration found on the bodies, and especially wings, of these wasps is an aposematism, advertising to potential predators the wasps' ability to deliver a powerful sting. Their long legs have hooked claws for grappling with their victims. The stinger of a female Pepsis grossa can be up to 7 mm (1/3 in) long, and the sting is considered the second most painful insect sting in the world.
The tarantula hawk is relatively docile and rarely stings without provocation. However, the sting, particularly of P. grossa, is among the most painful of any insect, though the intense pain only lasts about three minutes. Because of their extremely large stingers, very few animals are able to eat them; one of the few animals that can is the roadrunner. Many predatory animals avoid these wasps, and many different insects mimic them, including various other wasps and bees (Mullerian mimics), as well as moths, flies (e.g., mydas flies), and beetles (e.g., Tragidion) (Batesian mimics).

(s)
The Asian giant hornet (Vespa mandarinia), including the subspecies Japanese giant hornet (Vespa mandarinia japonica), also known as the yak-killer hornet, is the world's largest hornet, native to temperate and tropical Eastern Asia. Its body length is approximately 50 mm (2 in) and its wingspan about 76 mm (3 in), and it has a 6 mm (0.24 in) stinger which injects a large amount of potent venom.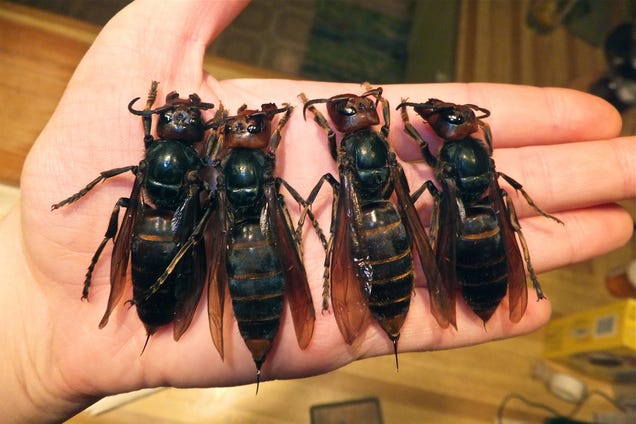 Several companies in Asia and Europe have begun to manufacture dietary supplements and energy drinks which contain synthetic versions of secretions of the larvae of Vespa mandarinia, which the adult hornets usually consume. The manufacturers of these products make claims that consuming the larval hornet secretions (marketed as "hornet juice") will enhance human endurance because of the effect it has on adult hornets' performance. Because these products are marketed as dietary supplements rather than pharmaceuticals, they do not have to support their claims. Some studies have suggested that the vespa amino acid mixture itself may influence animal performance in minor ways.

(s)
#15 Giant Fleas
Hystrichopsylla schefferi, also known as the mountain beaver flea and giant mountain beaver flea, is a parasitic holarctic insect belonging to the order siphonaptera, the "siphon-wings" (fleas). With an adult body length of as much as 0.5 inches (13 mm), it is the largest living flea in the world, and is native to the American northwest.
Though most members of the genus Hystrichopsylla are not strongly associated with any particular host animal and will parasitize insectivores and rodents generally, H. schefferi is monoxenously associated with the mountain beaver with which its range is coterminous. The fleas of the family hystrichopsyllidae, along with the family pulicidae, are the oldest of fleas in evolutionary history.

(s)


15 Giant Bugs, creepy crawlers, Detailed Images That Will Give You The Creepy Crawlies, giant Insects, giant Invertebrates, giant snail, giant spiders, huge beetles, huge bugs, huge crab, huge lobster, dobsonfly, atlas moth, whit witch moth, nomura, lion's mane jellyfish, weta, titan beetle, walking sticks, queen alexandra birdwing, crayfish, tasmanian crab, centipede, huntsman spider, camel spider, tarantula hawk, asian giant hornet, giant fleas15 Giant Bugs, creepy crawlers, Detailed Images That Will Give You The Creepy Crawlies, giant Insects, giant Invertebrates, giant snail, giant spiders, huge beetles, huge bugs, huge crab, huge lobster, dobsonfly, atlas moth, whit witch moth, nomura, lion's mane jellyfish, weta, titan beetle, walking sticks, queen alexandra birdwing, crayfish, tasmanian crab, centipede, huntsman spider, camel spider, tarantula hawk, asian giant hornet, giant fleas15 Giant Bugs, creepy crawlers, Detailed Images That Will Give You The Creepy Crawlies, giant Insects, giant Invertebrates, giant snail, giant spiders, huge beetles, huge bugs, huge crab, huge lobster, dobsonfly, atlas moth, whit witch moth, nomura, lion's mane jellyfish, weta, titan beetle, walking sticks, queen alexandra birdwing, crayfish, tasmanian crab, centipede, huntsman spider, camel spider, tarantula hawk, asian giant hornet, giant fleas15 Giant Bugs, creepy crawlers, Detailed Images That Will Give You The Creepy Crawlies, giant Insects, giant Invertebrates, giant snail, giant spiders, huge beetles, huge bugs, huge crab, huge lobster, dobsonfly, atlas moth, whit witch moth, nomura, lion's mane jellyfish, weta, titan beetle, walking sticks, queen alexandra birdwing, crayfish, tasmanian crab, centipede, huntsman spider, camel spider, tarantula hawk, asian giant hornet, giant fleas15 Giant Bugs, creepy crawlers, Detailed Images That Will Give You The Creepy Crawlies, giant Insects, giant Invertebrates, giant snail, giant spiders, huge beetles, huge bugs, huge crab, huge lobster, dobsonfly, atlas moth, whit witch moth, nomura, lion's mane jellyfish, weta, titan beetle, walking sticks, queen alexandra birdwing, crayfish, tasmanian crab, centipede, huntsman spider, camel spider, tarantula hawk, asian giant hornet, giant fleas15 Giant Bugs, creepy crawlers, Detailed Images That Will Give You The Creepy Crawlies, giant Insects, giant Invertebrates, giant snail, giant spiders, huge beetles, huge bugs, huge crab, huge lobster, dobsonfly, atlas moth, whit witch moth, nomura, lion's mane jellyfish, weta, titan beetle, walking sticks, queen alexandra birdwing, crayfish, tasmanian crab, centipede, huntsman spider, 15 Giant Bugs, creepy crawlers, Detailed Images That Will Give You The Creepy Crawlies, giant Insects, giant Invertebrates, giant snail, giant spiders, huge beetles, huge bugs, huge crab, huge lobster, dobsonfly, atlas moth, whit witch moth, nomura, lion's mane jellyfish, weta, titan beetle, walking sticks, queen alexandra birdwing, crayfish, tasmanian crab, centipede, huntsman spider, camel spider, tarantula hawk, asian giant hornet, giant fleascamel spider, tarantula hawk, asian giant hornet, giant fleas
Share on Tumblr