Peacock and Turkey Hybrid
A hybrid animal is two animals from different species, but from the same genus, that are cross-bred. The resulting animal will be called a hybrid. This does not occur very often in nature and instead they are usually bred in captivity, or in a lab, and most hybrid animals are sterile.
#1 Narwhal + Beluga = Narluga
A Narwhal-beluga is a cross between the two Monodontidae species. Narwhal-beluga
Narlugas are the offspring of beluga whales and narwhals. Though seen in the wild, there has not been one actually captured.
#2 Cows + Bison = Beefalo
Beefalo are a fertile Hybrid offspring of domestic cattle, generally males that are bred in managed breeding programs.
Beefalo Cows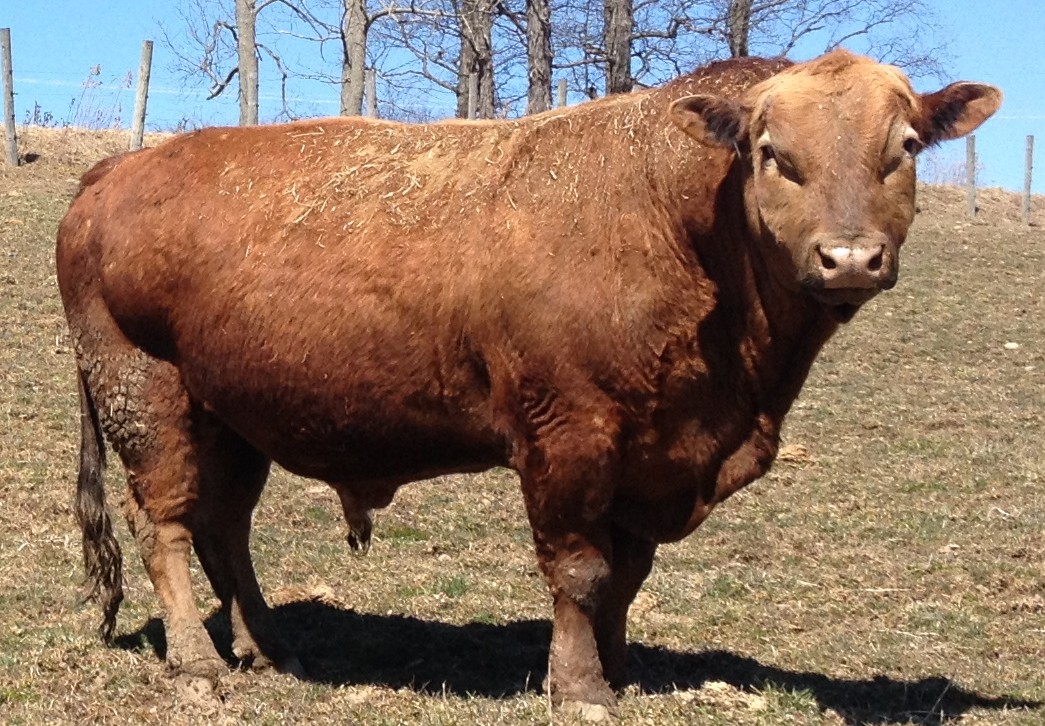 The meat is moderately low in fat and cholesterol, about a third the amount in regular beef, and much lower in saturated fat.
#3 Camels + Llamas = Camas
A cama is a hybrid between a male dromedary camel and a female llama, and has been produced via artificial insemination at the Camel Reproduction Centre in Dubai.
The aim was to create an animal capable of higher wool production than the llama, with the size and strength of a camel and a cooperative temperament.
An adult camel weighs six times as much as a llama, so artificial insemination is the only way to produce a living and thriving cama. Insemination of a female llama with sperm from a male dromedary camel has been the only successful combination. Other combinations, such as that of a female camel with male llama sperm, have not produced viable offspring.
#4 False Killer Whale + Dolphin = Wholphin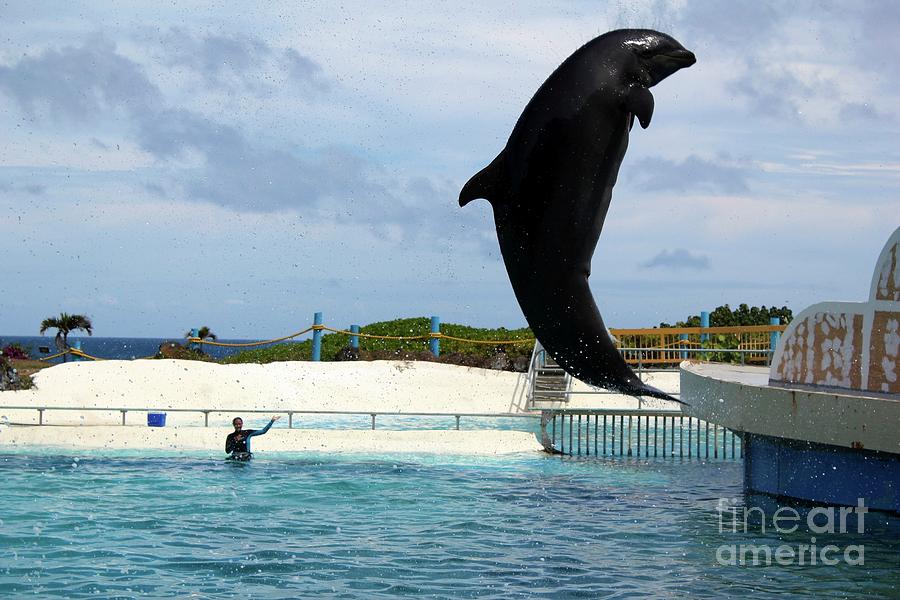 A wholphin or wolphin is an extremely rare hybrid born from a mating of a female bottlenose dolphin (Tursiops truncatus) with a male false killer whale (Pseudorca crassidens).
The name implies a hybrid of whale and dolphin, although taxonomically, both are within the "oceanic dolphin" family, which is within the "toothed whale" suborder.
Kekaimalu, the world's only known living wholphin, swims next to her baby calf.
Kawili Kai, born to Kekaimalu (female wholphin) by a male dolphin, at 9 months of age in September 2005.
#5 Grizzly Bears + Polar Bears = Grolar Bears
A grizzly–polar bear hybrid (also pizzly bear, prizzly bear, Polar-Grizz, or grolar bear, is a rare ursid hybrid that has occurred both in captivity and in the wild.
In 2006, the occurrence of this hybrid in nature was confirmed by testing the DNA of a strange-looking bear that had been shot near Sachs Harbour, Northwest Territories on Banks Island in the Canadian Arctic.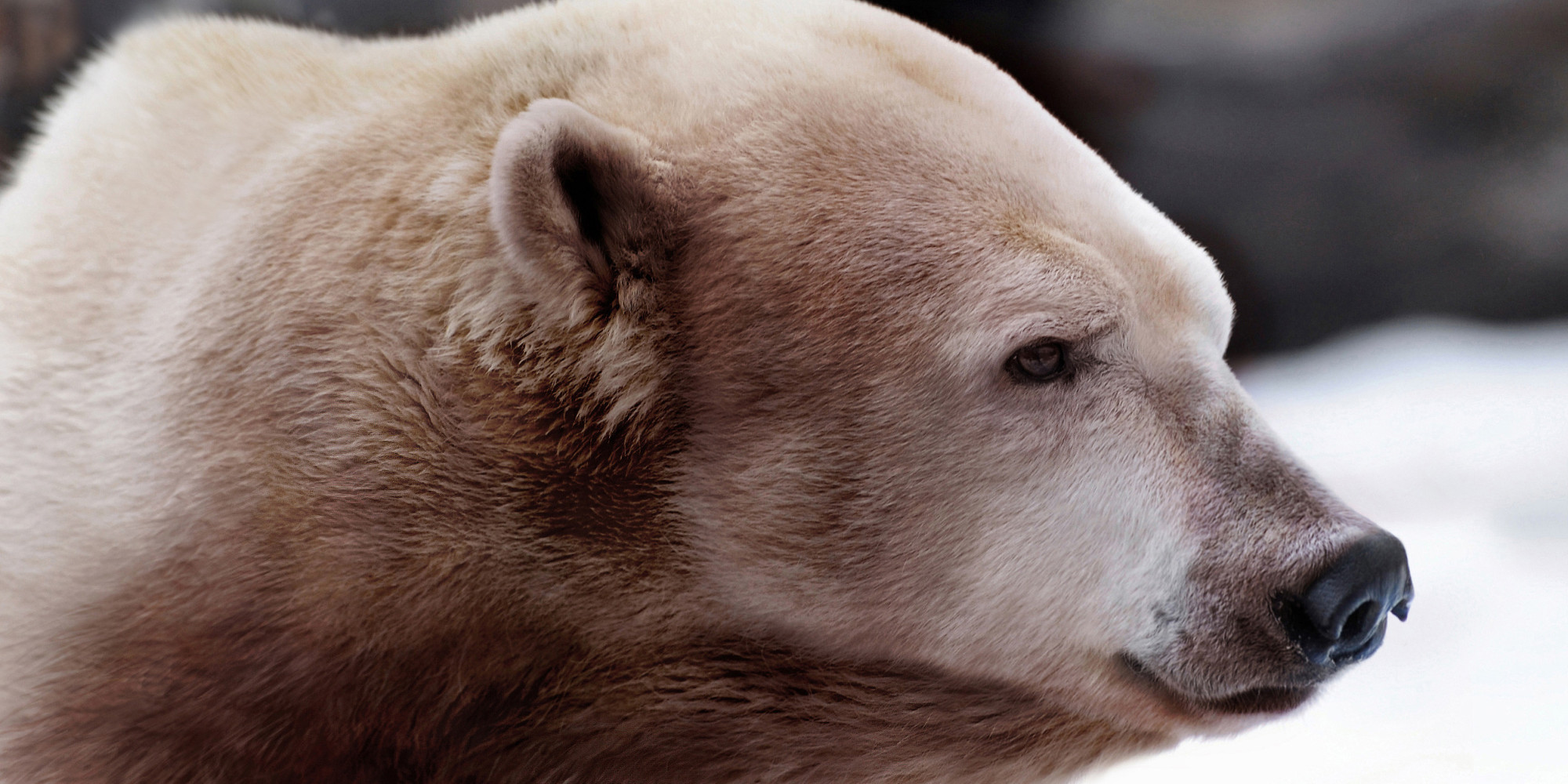 Although these two species are genetically similar and often found in the same territories, they tend to avoid each other in the wild. They also fill different ecological niches.
#6 Equines + Zebras = Zebroids
A zebroid (also zedonk, zorse, zebra mule, zonkey, and zebrule) is the offspring of any cross between a zebra and any other equine: essentially, a zebra hybrid.
(Zebra-Donkey) In most cases, the sire is a zebra stallion. Offspring of a donkey sire and zebra dam, called a zebra hinny, or donkra, do exist but are rare. Like mules, however, they are generally genetically unable to breed, due to an odd number of chromosomes disrupting meiosis.
Donkra (Zonkey) born to a zebra dam and male donkey which is very rare. Born at Crimean Zoo August 5, 2014.
A zorse is the offspring of a zebra stallion and a horse mare. This cross is also called a zebrula, zebrule, or zebra mule. The rarer reverse pairing is sometimes called a horbra, hebra, zebrinny or zebret. Like most other animal hybrids, the zorse is sterile.
A zony is the offspring of a zebra stallion and a pony mare. Medium-sized pony mares are preferred to produce riding zonies, but zebras have been crossed with smaller pony breeds such as the Shetland, resulting in so-called "Zetlands".
#7 Male Lions + Female Tigers = Ligers

The liger is a hybrid cross between a male lion (Panthera leo) and a tigress (Panthera tigris). Thus, it has parents with the same genus but of different species. It is distinct from the similar hybrid tigon. It is the largest of all known extant felines.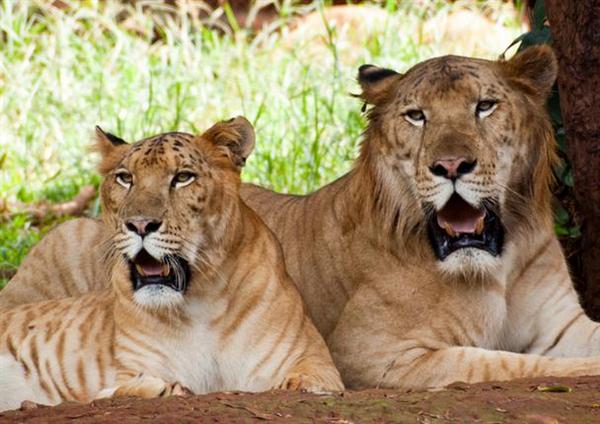 Notably, ligers typically grow larger than either parent species, unlike tigons which tend to be about as large as a female tiger and is the cross between a male tiger and a lioness.
#8 Male Tigers + Female Lions = Tigons
A tigon or tiglon is a hybrid cross between a male tiger (Panthera tigris) and a lioness (Panthera leo). Thus, it has parents with the same genus but of different species.
The tigon's genome includes genetic components of both parents. Tigons can exhibit visible characteristics from both parents: they can have both spots from the mother (lions carry genes for spots—lion cubs are spotted and some adults retain faint markings) and stripes from the father.
Any mane that a male tigon may have will appear shorter and less noticeable than a lion's mane and is closer in type to the ruff of a male tiger. It is a common misconception that tigons are smaller than lions or tigers.
Liger, Bengal tiger, Tigon, Siberian tiger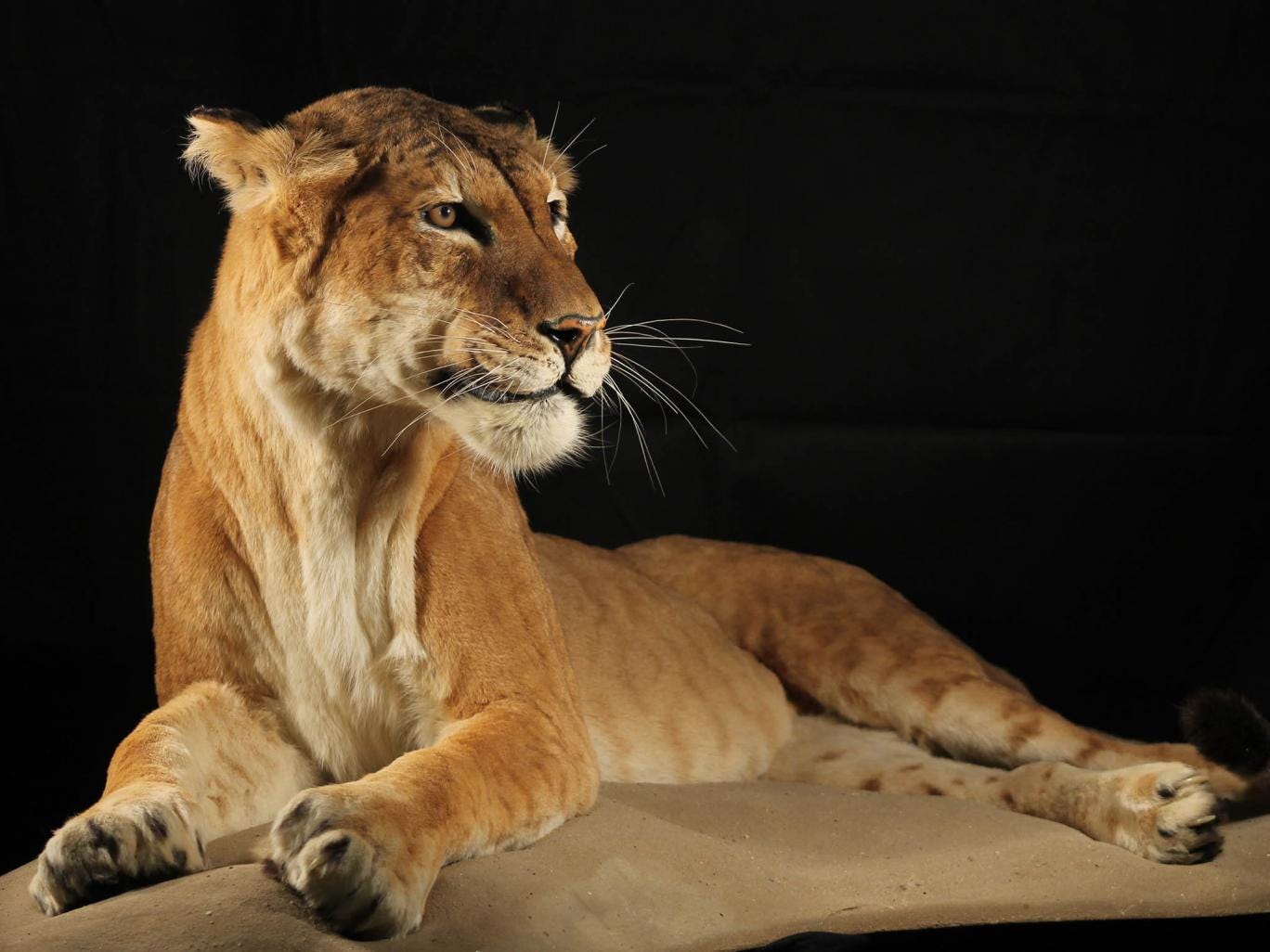 Maude the Tigon: Rare cross between tiger and a lion
#9 Domestic Cats + African Cats = Savannah Cats
A Savannah cat is a cross between a domestic cat and the serval, a medium-sized, large-eared wild African cat. The unusual cross became popular among breeders at the end of the 1990s, and in 2001 the International Cat Association accepted it as a new registered breed. In May 2012, TICA accepted it as a championship breed.
Size is very dependent on generation and sex, with F1 hybrid male cats usually being the largest. Because of the random factors in Savannah hybrid genetics, size can vary significantly, even in one litter.
#10 Coyotes + Wolves = Coywolf
Coywolf is an informal term for a canid hybrid descended from coyotes and one of three other North American Canis species (gray, eastern and red wolves).
The coyote is closely related to both eastern and red wolves, having diverged from them 150,000-300,000 years ago and evolved side by side with them in North America, thus facilitating hybridization between them.
In contrast, hybrids between coyotes and gray wolves, which are Eurasian in origin and diverged from coyotes 1-2 million years ago and are extremely rare due to the latter species' habit of killing coyotes.
Coydogs, who are hybrids between coyotes and domestic dogs, can also be considered as a close hybrid relative to hybrids of coyotes and gray wolves due in part to the dogs being a domestic descendant of the gray wolves.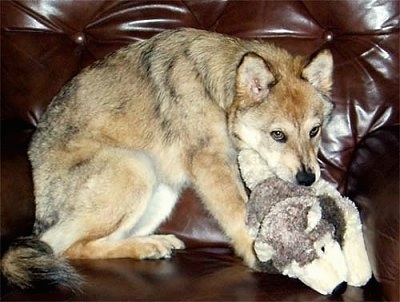 Kaweah, the Coydog (half Australian Shepherd (dam) and half coyote) puppy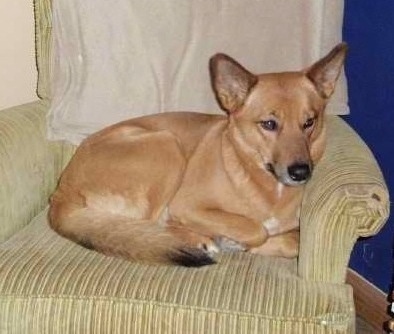 Aiko the Coydog (Coyote / German Shepherd Dog mix) at 7 years old
#11 Male Leopards + Female Lions = Leopons
A leopon is a hybrid resulting from the crossing of a male leopard with a lioness. The head of the animal is similar to that of a lion while the rest of the body carries similarities to leopards. These hybrids are produced in captivity and are unlikely to occur in the wild.
They have been bred in zoos in Japan, Germany, and Italy
(the latter was a "reverse leopon" i.e. from a male lion and a leopardess)
#12 Male Tigers + Female Jaguars = Tiguars
Male Jaguar + Female Lion = Jaglion
M/f Jaguar + M/f Leopard = Leguar
The crossbreeding of a male Siberian tiger and a female jaguar from the southern Chiapas jungle produced a male tiguar named Mickey.
There has been no report of the birth of a healthy hybrid from a male jaguar and female tiger, which would be termed a "jagger"
Jaglion
Jaglions Jahzara(R) and Tsunami(L) birthday picture
Leonardo the African Leopard/Jaguar Hybrid
#13 Yaks + Domestic Cows = Dzo
A dzo (Tibetan མཛོ་ mdzo) is a hybrid of yak and domestic cattle. The word dzo technically refers to a male hybrid, while a female is known as a dzomo or zhom.
In Mongolian it is called khainag. Dzomo are fertile while dzo are sterile. As they are a product of the hybrid genetic phenomenon of heterosis (hybrid vigor), they are larger and stronger than yak or cattle from the region. In Mongolia and Tibet, khainags are thought to be more productive than cattle or yaks in terms of both milk and meat production.
#14 Tamworth Pigs + Wild Boars = Iron Age Pigs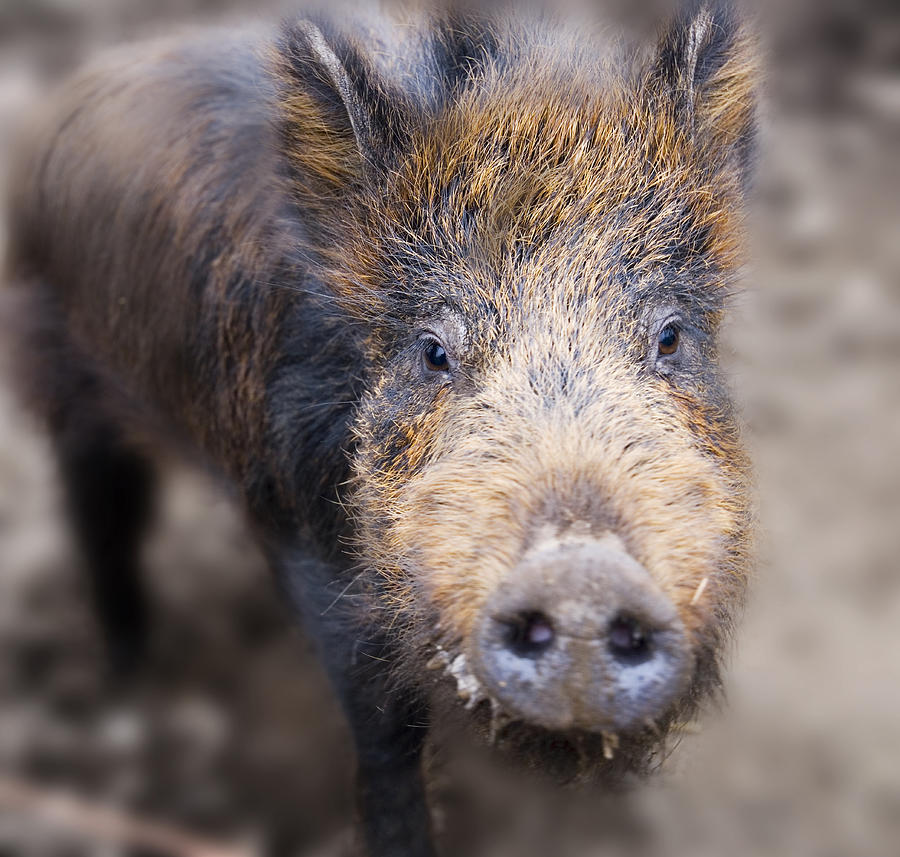 The Iron Age pig is a hybrid between a wild boar and a domestic pig meant to recreate the type of pig represented by prehistoric art works of the Iron Age in ancient Europe.
The project started in the early 1980s by crossing a male wild boar with a Tamworth sow to produce an animal that looks like the pig from long ago. Iron Age pigs are generally only raised in Europe for a specialty meat market, and in keeping with their heritage are generally more aggressive and harder to handle than pure domestic pigs.
#15 Game Birds + Poultry = Hybrid Pheasants
Two hybrids between chickens and the common pheasant, Rothschild Museum, Tring
Gamebird hybrids are the result of crossing species of game birds, including ducks, with each other and with domestic poultry. These hybrid species may occur both naturally or though the intervention of man.
Hybrid pheasant (left) and hybrid of Black Grouse x Hazel Grouse (right), Rothschild Museum, Tring
Hybrid Pheasant. The Golden Phesant has commonly been crossed with the similar Lady Amherst's Pheasant.
hybrid ring-necked pheasant and chicken
Peacock and Chicken Hybrid
Pheasant and Chicken Hybrid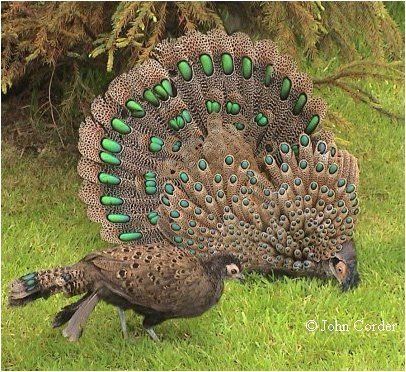 Peacock and Pheasant Hybrid
Peacock and Turkey Hybrid
Lady Amherst + Golden Pheasant Hybrid
#16 Sheep + Goat = Sheep-Goats
Although sheep and goats seem similar and can be mated together they are of a different genus so any offspring are generally stillborn due to chromosome mismatch (sheep have 54, goats have 60).
Male and female hybrids between sheep and mouflon (1910).
Sheep-Goat Hybrid of Botswana
#17 Male Horse + Female Donkey = Hinny
A hinny is a domestic equine hybrid that is the offspring of a horse stallion and a jenny donkey.
It is the reciprocal cross to the more common mule, which is the product of a jack donkey and a horse mare.
Hinnies are difficult to obtain because of the differences in the number of chromosomes of the horse and the donkey. A donkey has 62 chromosomes, whereas a horse has 64. Hinnies, being hybrids of those two species, have 63 chromosomes and are sterile.
#18 Human + Hamster = Humster
This is a comic representation and Not a Humster, which is a hybrid cell line and not an actual animal.
A humster is a hybrid cell line made from hamster oocyte fertilized with human sperm routinely created for two reasons:
*To avoid legal issues with working with pure human embryonic stem cell lines.
*To assess the viability of human sperm for in vitro fertilization.
Somatic cell hybrids between hamster or mouse and man have been used for mapping of various traits at least since the 1970s.
Also known as evaluation of human sperm fertility by interspecific (human spermatozoa-hamster oocytes) in vitro fertilization.
#19 Mouse + Cow = Vacanti Mouse
The Vacanti mouse was a laboratory mouse that had what looked like a human ear grown on its back. The "ear" was actually an ear-shaped cartilage structure grown by seeding cow cartilage cells into a biodegradable ear-shaped mold and then implanted under the skin of the mouse.
The earmouse, as it became known, was created by Charles Vacanti and colleagues in the Department of Anesthesiology (University of Massachusetts Medical School) and their results were published in 1997. The mouse itself is called a nude mouse, a commonly used strain of immunocompromised mouse, preventing a transplant rejection.
UPDATE:
For the first time, scientists have used stem cells to grow an adult-size human ear on the back of a rat. The scientists, who come from the University of Tokyo and Kyoto University, say the ear could be grown to repair faces disfigured in battle or accidents and also help people born without ears or with ear deformities.
To grow the ear, the team induced pluripotent stem cells to grow into ear cartilage. Those cells were then placed into a kind of biological tubing shaped roughly as an ear. The ear form was then implanted under the skin of a live rat and the cells were left to grow for about two months. Around that time, the tubes dissolved, leaving behind the human ear about 2 inches long.
Source: http://news.discovery.com/tech/biotechnology/adult-human-ear-grown-on-a-rat-160125.htm
#20 Archaic Human + Modern Humans = Almas
There have been several instances of archaic human admixture with modern humans through interbreeding of modern humans with Neanderthals, Denisovans, and/or possibly other archaic humans over the course of human history. As is typical of similar legendary creatures throughout Central Asia, Russia, Pakistan and the Caucasus, the Almas is generally considered to be more akin to "wild people" in appearance and habits than to apes (in contrast to the Yeti of the Himalayas).
A wildwoman named Zana is said to have lived in the isolated mountain village of T'khina fifty miles from Sukhumi in Abkhazia in the Caucasus; some have speculated she may have been an Almas. Zana is said to have had sexual relations with a man of the village named Edgi Genaba, and gave birth to a number of children of apparently normal human appearance.
(Zana's Son) In the 2013 Channel 4 documentary, Bigfoot Files, Professor Bryan Sykes of the University of Oxford showed that Zana's DNA was 100% Sub-Saharan African in origin and she could have been a slave brought to Abkhazia by the Ottoman Empire. Prof. Sykes did however raise questions as to whether Zana could have been from a population of Africans who left the continent tens of thousands of years earlier as her son,

Khwit's skull had some very unique and archaic characteristics.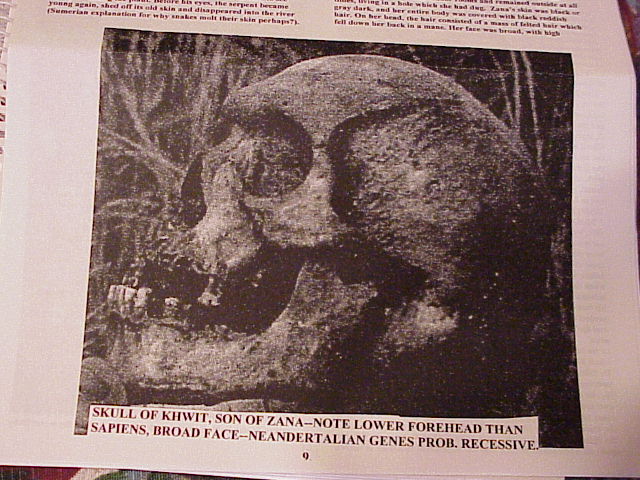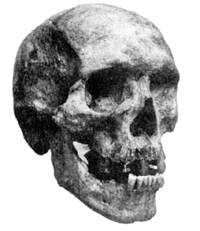 Khwit's Skull (exhibits a combination of modern human and archaic human features)
Khwits's Skull compared to Modern Human Skull!
For perspective, this is a Neanderthal skull vs. a Modern Human skull..note the similarities by comparison in the picture of Khwit's skull and a Modern Human skull!
Almases appear in the legends of local people, who tell stories of sightings and human-Almas interactions dating back to the 15th century. Their actual existence in the modern era has never been proven.
20 Awesome Animal Hybrids, animal-hybrids, animals, beefalo, camas, grolar bears, hybrids, ligers, narluga, parahumans, tigons, wholphin, almas, wild people, archaic human, vacanti mouse, humster, hinny, sheep-goats, turkey-peacock-hybrid, pheasant hybrid, chicken hybrid, iron age pig, dzo, tiguar, coywolf, savannah cat20 Awesome Animal Hybrids, animal-hybrids, animals, beefalo, camas, grolar bears, hybrids, ligers, narluga, parahumans, tigons, wholphin, almas, wild people, archaic human, vacanti mouse, humster, hinny, sheep-goats, turkey-peacock-hybrid, pheasant hybrid, chicken hybrid, iron age pig, dzo, tiguar, coywolf, savannah cat, zebroids, camas, beefalo, narluga
, zebroids, cama
20 Awesome Animal Hybrids, animal-hybrids, animals, beefalo, camas, grolar bears, hybrids, ligers, narluga, parahumans, tigons, wholphin, almas, wild people, archaic human, vacanti mouse, humster, hinny, sheep-goats, turkey-peacock-hybrid, pheasant hybrid, chicken hybrid, iron age pig, dzo, tiguar, coywolf, savannah cat, zebroids, camas, beefalo, narluga
s, beefalo, nar
20 Awesome Animal Hybrids, animal-hybrids, animals, beefalo, camas, grolar bears, hybrids, ligers, narluga, parahumans, tigons, wholphin, almas, wild people, archaic human, vacanti mouse, humster, hinny, sheep-goats, turkey-peacock-hybrid, pheasant hybrid, chicken hybrid, iron age pig, dzo, tiguar, coywolf, savannah cat, zebroids, camas, beefalo, narluga
luga
Share on Tumblr