Many have asked the question: "Exactly which of our two visages is it, male or female, that came first?" Maybe both, or does just one sex contain all the components we need? It is similar to the question "Did the chicken come first, or the egg?" But instead the question is, "Did the male come first, or the female?" The christian Bible strives to answer this question with a story about a man, some mud, and a rib bone. The man was formed out of mud and the woman from the man's rib bone. So therefore the man is said to have come first, at least according to the Christians, but does science back this theory up? One way to scientifically figure this question out is to look at the reproduction processes of humans and animals. That is to say, can the males or females of any species reproduce without any aid whatsoever from their corresponding gender? Even hermaphroditic species, that reproduce by themselves because they contain reproductive organs from both sexes in an individual body, still reproduce with a contribution from the male sex. Then there are certain plants that continuously clone themselves from their cuttings or droppings, effectively rendering themselves immortal. A trait of the gods, but are there any animals that can reproduce asexually and still produce viable males of their species or non-clone females? Amazingly, the answer is yes there are. Parthenogenesis is a form of asexual reproduction in animals where growth and development of embryos occur without fertilization. Meaning that the females reproduce without any contribution from the males of their species. The term is sometimes used inaccurately to describe reproduction modes in hermaphroditic species, but in Parthenogenesis the egg is unfertilized and develops into both males and females. Also, Parthenogenesis is distinct from cloning, a process where the new organism is genetically identical to the cell donor. Parthenogenesis is different, in that it originates from the genetic material contained within an egg cell but the new organism is not necessarily genetically identical to the parent.There are many examples of invertebrates that naturally display this ability and some vertebrates like sharks, fish, birds, lizards, and snakes. There are no known cases of naturally occurring mammalian parthenogenesis in the wild, but on June 26, 2007, International Stem Cell Corporation (ISCC), a California-based stem cell research company, announced that their lead scientist, Dr. Elena Revazova, and her research team were the first to intentionally create human stem cells from unfertilized human eggs using Parthenogenesis. With the use of parthenogenesis to produce human stem cells, it is possible to generate a bank of cell lines whose tissue derivatives, collectively, could be matched with a significant number of individuals within the human population. The process may offer a way for creating stem cells that are genetically matched to a particular person for the treatment of degenerative diseases. This outstanding scientific breakthrough was completed in a lab and is therefore unnatural, but there are many species that don't need the aid of expensive lab devices to complete the Parthenogenesis process. The North American pit viper undergoes this process in the wild, even if there are males in the vicinity. Some animals become invasive due to the phenomenal densities their populations reach through parthenogenesis reproduction, like the New Zealand mud snail. Most of these animals can reproduce sexually, but often biologically select Parthenogenesis in order to avoid wasting the valuable resources required to produce the unnecessary males of their species. In some species a single female could theoretically have male offspring asexually by Parthenogenesis, then switch to sexual reproduction with their male offspring to maintain a higher level of genetic diversity than asexual reproduction alone can generate, like in Komodo dragons. Tardigrades, an aquatic micro-animal that can survive a number of harsh environments including travel in the vacuum of space, also reproduce through selective parthenogenesis. So the female has definitely come out on top in this debate, but does that mean she was first? Not necessarily, but it does mean that under certain conditions the males of any species may become obsolete. It also means that if we choose to believe in a god, specifically the christian god, and therefore believe that the christian Bible is an example facts and truth, in that it states humans were created in God's image. Then those that believe in the christian god must accept that the image could just as likely be female, if the female sex came first. Some may even view their gods as hermaphroditic entities, or of no sex at all.
It certainly proves that under extreme conditions, like harsh environments, the females of many species can reproduce without any viable males available to contribute to the genetic pool. They can survive and even thrive. The fact that some females can reproduce non-clones and male offspring, without any genetic contribution from the males of their species, certainly supports the theory that the female came first. It would seem that the female is more equipped to survive and repopulate under harsh conditions, if the occasion should arise. Like for example populating a new planet, or repopulating after a global disaster followed by a mass extinction. Similar to what could happen if say, theoretically, a giant asteroid hit Earth and wiped out 96 percent of all marine species and 70 percent of all terrestrial vertebrates species. So maybe the story should read more like this:
"The LORD God fashioned into a man the rib which She had taken from the woman, and brought him to the woman. 23 The woman said, "This is now bone of my bones, And flesh of my flesh; He shall be called Man, Because he was taken out of Woman."…
Here is a list of 5 animals that may prove the male sex is a product of evolution:

#1 Komodo Dragons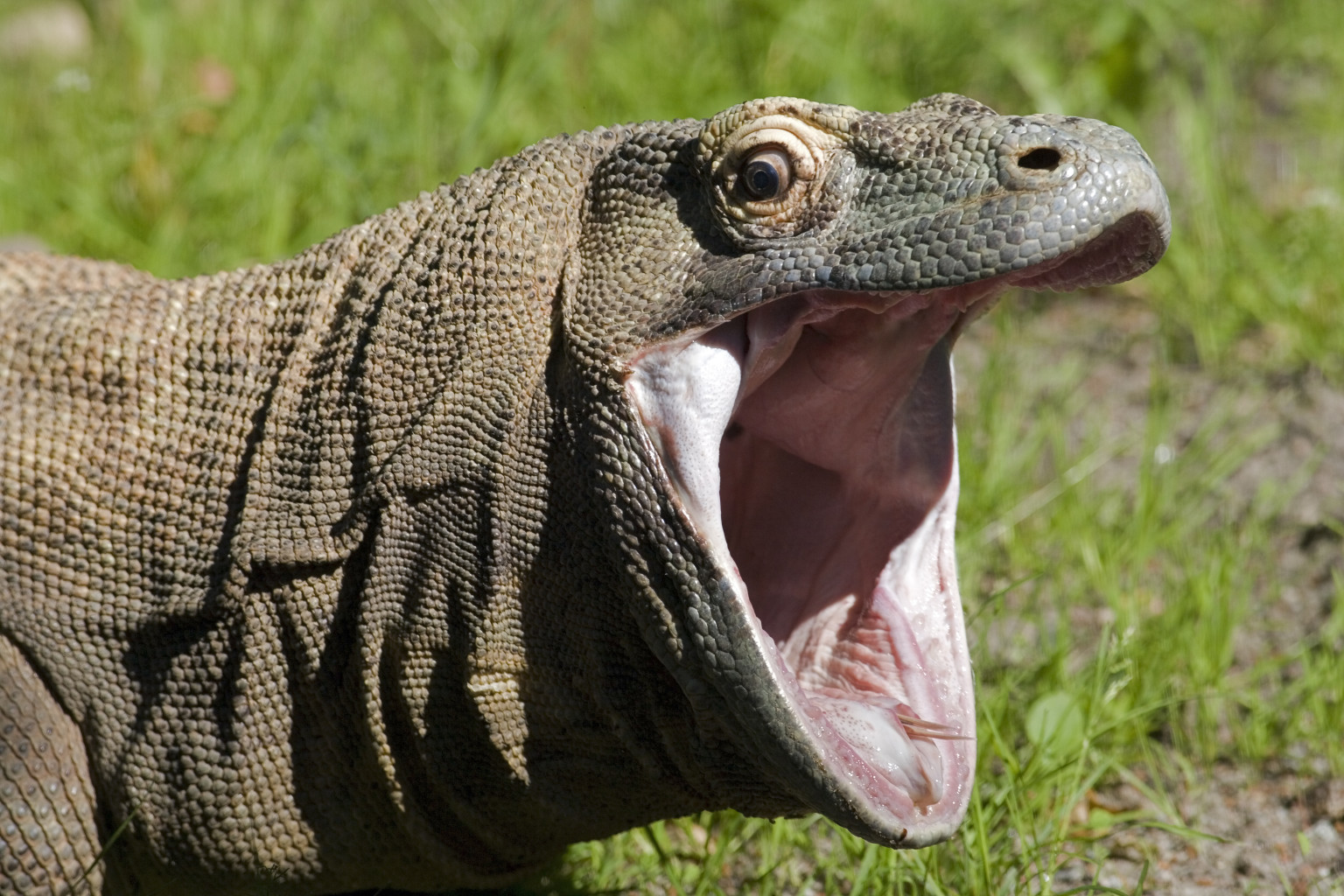 A Komodo dragon at London Zoo named Sungai laid a clutch of eggs in late 2005 after being separated from the
Male
of her species for more than two years. Initially, it was assumed that she had been able to store sperm from her earlier encounter with a male. But in December of 2006, it was reported that Flora, a Komodo dragon living in a zoo in England, was proved through genetic testing to have laid unfertilized eggs. Of all those that hatched, every one of them were male. Scientists performed genetic tests on three eggs that collapsed after being moved to an incubator, and confirmed that Flora had never been in physical contact with any male dragon. Later testing showed Sungai's eggs were also produced without male fertilization. The first zoo, in America, to document parthenogenesis in Komodo dragons was the Sedgwick County Zoo in Wichita, it had two adult female Komodo dragons lay unfertilized eggs. Out of 17 eggs only two eggs were incubated and hatched, and both hatchlings were male.
Komodo dragons have the ZW chromosomal sex-determination system, as opposed to the mammalian XY system. When a female Komodo dragon reproduces asexually, she provides her progeny with only one chromosome from each of her pairs of chromosomes, including only one of her two sex chromosomes. This single set of chromosomes is duplicated in the egg, which develops via parthenogenesis. Eggs receiving a Z chromosome become ZZ (male); those receiving a W chromosome become WW and fail to develop, meaning that only males are produced by parthenogenesis in this species.
It has been hypothesized that this reproductive adaptation allows a single female to enter an isolated ecological niche (such as an island) and by parthenogenesis produce male offspring, thereby establishing a sexually reproducing population (via reproduction with her offspring that can result in both male and female young). There are many advantages to such an adaptation, but despite this zoos are cautioned that parthenogenesis may be detrimental to genetic diversity. It should be noted that the species V. komodoensis (Komono Dragon) has been around for 3.8 million years, and the process of reproduction through parthenogenesis could be one explanation for their continued survival. Especially in the modern era, with increasing threats to their habitats and crucial food sources by local human populations.
#2 Hammerhead Sharks
In 2007, a bonnethead shark, a member of the hammerhead shark genus, was found to be capable of asexual reproduction by automictic parthenogenesis. Automictic parthenogenisis is where a female's ovum fuses with a polar body to form a zygote without the need for a male. This means that the gametes fuse after meiosis, and therefore the offspring is not genetically identical to parent. This was the first shark known to do this. The shark was found to have produced a pup in a tank containing three female hammerheads, but no males.
Unfortunately, the shark pup was killed by a stingray within days of birth, but after the investigation of the birth was concluded, DNA testing proved that the reproduction was parthenogenic. The testing proved the female pup's DNA matched only one female who lived in the tank, and that no male DNA was present in the pup. The pup was not a twin or clone of her mother, but rather, contained only half of her mother's DNA ("automictic parthenogenesis"). Until this documentation, this type of reproduction had only been seen in bony fish. The bonnethead shark was the first cartilaginous fish proven to reproduce through parthenogenisis.
#3 Water Fleas
Called water fleas because their swimming style resembles the movements of fleas, Cladocera is an order of small aquatic crustaceans. Most species show cyclical parthenogenesis, reproducing both sexually and asexually, this provides resting eggs that allow the species to survive harsh conditions and disperse to distant habitats. Towards the end of the growing season the females produce tough "resting eggs" or "winter eggs."
Most offspring are typically female, but a small number of males are also produced in most species. The males produced, then fertilize the females' eggs. The resulting offspring are haploid eggs, or offspring with only one set of chromosomes. Although, in species without males, these eggs are also produced asexually and are diploid, meaning they have two sets of chromosomes and are usually female. The resting eggs are protected by a hardened coat called the ephippium, which can withstand periods of extreme cold, drought, or lack of food and still hatch.
When conditions improve the resting eggs hatch into viable females, ensuring their survival despite the harsh conditions. It almost seems as if they are starting from the beginning each time periods of harsh conditions are experienced, which would imply that the female of the species is the beginning. Also, some species of water fleas when confronted with a water pollutant like pesticides, will produce more males to ensure greater genetic diversity among the resting eggs. They do this because the females experience reproduction mutations caused by the pollutants.
(s1)
(s2)
This would imply that gender is controlled by environmental variables, and that evolution keeps sex determination flexible. It also shows that organisms can evolve quickly to compensate for negative mutations, by creating a balance with respect to their sex.
In fact, according to the study published today in the journal Developmental Cell, sex-specific transcription factors perform lifelong work to maintain sexual determination and protect against reprogramming of cells from one sex to the other. Researchers found the sex of gonadal cells -- those found in the ovaries or testes -- require maintenance throughout life. This research also showed loss of a single transcription factor can result in the transformation of male cells into female cells.
(s)
So why do the male cells revert to female cells, and not the other way around? Could it be because the female cell was the original form, and are more equipped to contend with the stress experienced from the manipulations and mutations the scientists forced on the cell? Could the male sex just be a product of evolution?
Rsearchers from Osaka University and the National Institute for Basic Biology, Japan, have found a highly significant connection between the molecular mechanisms underlying genetic and environmental sex determination. The scientists report the identification of a gene responsible for the production of males during environmental sex determination in the crustacean Daphnia. This work lends support to the "Doublesex hypothesis" of sex determination, and the ancestral link between genetic and environmental sex determination.
(s)
#4 Pit Vipers
In 2012, facultative parthenogenesis was reported in wild vertebrates for the first time in captured pregnant copperhead and cottonmouth female pit-vipers. Facultative parthenogenesis is a term used to describe a species that normally reproduces sexually, but can undergo asexual reproduction. In contrast, obligate parthenogenesis is where the females reproduce exclusively by asexual means. Facultative parthenogenesis is believed to be a response to a lack of a viable male, if a male is absent from the habitat, or if the male is unable to produce viable offspring. Although, pit vipers have been observed reproducing by parthenogenesis, even with viable males in the vicinity.
#5 New Mexico Whiptail
One of the most interesting facts about the New Mexico whiptail is that even in completely asexual populations, meaning populations that lack males, they still require sexual behavioral stimuli for maximum reproductive success. But instead of sexual acts performed between males and females, the females of the New Mexico whiptail species perform them on each other. One female, shortly after laying eggs, when levels of progesterone are high, plays the male's role and mounts the female that is about to lay eggs. By acting out the courtship ritual they increase in their hormone levels and have greater fecundity than those kept in isolation. The asexual examples of the species are actually created from a hybridization of several types of whiptail or through parthenogenic reproduction of an adult New Mexico whiptail. This hybridization prevents healthy males from forming in subsequent generations, but examples of males do exist in the parent species. Therefore, through a combination of interspecific hybridization and parthenogenesis, the resulting all-female population has evolved into a unique species capable of reproduction. Or maybe this isn't an example of evolution, but devolution due to harsh conditions.
parthenogenisis, is god a woman, god is a woman, komodo dragon, asexual reproduction, hammerhead shark, water fleas, new mexico whiptail, devolution, evolution, evolutionary-biology, parthenogenisis, is god a woman, god is a woman, komodo dragon, asexual reproduction, hammerhead shark, water fleas, new mexico whiptail, devolution, evolution, evolutionary-biology, parthenogenisis, is god a woman, god is a woman, komodo dragon, asexual reproduction, hammerhead shark, water fleas, new mexico whiptail, devolution, evolution, evolutionary-biology, parthenogenisis, is god a woman, god is a woman, komodo dragon, asexual reproduction, hammerhead shark, water fleas, new mexico whiptail, devolution, evolution, evolutionary-biology, parthenogenisis, is god a woman, god is a woman, komodo dragon, asexual reproduction, hammerhead shark, water fleas, new mexico whiptail, devolution, evolution, evolutionary-biology, parthenogenisis, is god a woman, god is a woman, komodo dragon, asexual reproduction, hammerhead shark, water fleas, new mexico whiptail, devolution, evolution, evolutionary-biology, parthenogenisis, is god a woman, god is a woman, komodo dragon, asexual reproduction, hammerhead shark, water fleas, new mexico whiptail, devolution, evolution, evolutionary-biology, parthenogenisis, is god a woman, god is a woman, komodo dragon, asexual reproduction, hammerhead shark, water fleas, new mexico whiptail, devolution, evolution, evolutionary-biology, parthenogenisis, is god a woman, god is a woman, komodo dragon, asexual reproduction, hammerhead shark, water fleas, new mexico whiptail, devolution, evolution, evolutionary-biology, parthenogenisis, is god a woman, god is a woman, komodo dragon, asexual reproduction, hammerhead shark, water fleas, new mexico whiptail, devolution, evolution, evolutionary-biology, parthenogenisis, is god a woman, god is a woman, komodo dragon, asexual reproduction, hammerhead shark, water fleas, new mexico whiptail, devolution, evolution, evolutionary-biology,
Share on Tumblr