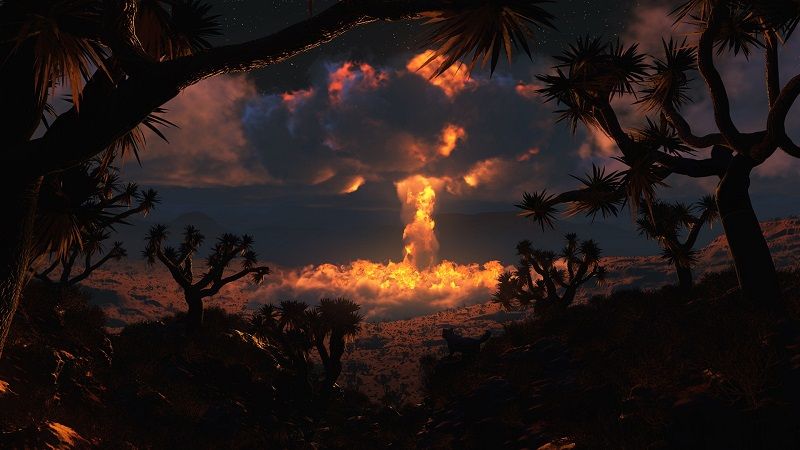 An animal's ability to Survive the fallout from a nuclear explosion is usually dependent on its ability to withstand radiation, otherwise known as radio-resistance. Radio-resistant life forms or ionizing-radiation-resistant organisms (IRRO) are a group of organisms that require large doses of radiation, 1000 gray (Gy) to achieve a 90% reduction in their survival rate. To put it in perspective, a human would need something in the range of 4-10 (Gy) to achieve the same results and a dog could withstand even less, about 3.5 (Gy). Gray, with the symbol of (Gy), is a unit of measurement used to describe the absorption of radiation energy per 1 kilogram of matter.
Compared to dogs, some humans can withstand a little more radiation abuse, but there are other mammals that cope even better in a radiation soaked environment. For example, rats can withstand about 7.5 (Gy), and mice can survive up to 9 (Gy). Although, these numbers are terribly inadequate compared to some of the extremely radio-resistant organisms out there. This is because mammals, humans in particular, have quick cell cycles. Meaning that in humans some cells are constantly dividing and replicating themselves and during the process of cell replication is when these cells are the most vulnerable to the effects of radiation. Animals that have slower cell cycles are usually more resistant to higher radiation levels that can result in cell death and DNA deterioration. These radio-resistant creatures certainly have a larger window of time to escape the fallout, up to a week or more for some of those with particularly slow cell cycles. Here is a list of 6 animals that can survive the fallout from a nuclear explosion:
#1 Thermococcus gammatolerans - 30,000 gray (Gy)
The species Thermococcus gammatolerans'
ability to withstand up to 30,000 (Gy) in a short amount of time is quite amazing. Especially when compared to the measly radio-resistance of 4-10 (Gy) in humans, with some dying within weeks after a dose of only 1 (Gy).
Thermococcus gammatolerans are microorganisms with no cell nucleus. They are considered to be in the class of archaea extremophiles, and are the most radiation resistant organisms known to man. Extremophiles are organisms that live in the most extreme environments on Earth, like hydrothermal vents located at the bottom of the ocean. These hydrothermal vents are where
Thermococcus gammatolerans thrive and this naturally harsh environment lends them pre-programmed
ability to withstand almost any kind of super weapon we might throw at them.
While a dose of only 60 (Gy) is enough to kill all the cells in a colony of E. coli,
Thermococcus gammatolerans can live through a dose of up to 30,000 (Gy) over a short amount of time and even remain viable after an instantaneous dose of 5,000 (Gy). For comparison, the people that fell victim to the Chernobyl power plant disaster would have soaked up a instantaneous dose of about 6 (Gy), which killed most of them within a week.
During the Chernobyl disaster four hundred times more radioactive material was released than at the atomic bombing of Hiroshima, the dose at 1000 meters from ground zero is estimated at about 4 (Gy), and around 12 (Gy) at ground zero, meaning that
Thermococcus gammatolerans can survive the radiation of 7,500 Hiroshima blasts at 1000 feet.
In perspective, the typical radiation absorption rate for humans, in the United States, is about
0.008 (Gy), w
hile occupational exposure levels, in the U.S., allows up to
0.05 (Gy)
to be absorbed safely in a year. With medical care, about half of the population can survive 6 (Gy) in whole body exposure and some have survived up to 10 (Gy).
Nearly all people who receive more than 8 (Gy) die within a few days but most who absorb less than 2 (Gy) fully recover within 1 month, although long-term complications such as cancer may occur.
Thermococcus gammatolerans is resistant to radiation due to their ability to
slowly or quickly rebuild damaged chromosomes and reconstitute DNA without a loss of viability. It has been suggested that their DNA repair mechanisms could be incorporated into the genome of higher species in order to improve DNA repair and reduce cellular aging.
#2 Deinococcus radiodurans - 15,000 gray (Gy)
Deinococcus radiodurans is a bacterium, and like the microorganism
Thermococcus gammatolerans, it
is also considered an extremophile. In addition to being an extremophile, it is also regarded as a polyextremophile, meaning that it can survive cold, acid, vacuum, and dehydration.
Deinococcus radiodurans is
listed as the the world's toughest bacterium in The Guinness Book of World Records, and is nicknamed Conan the Bacterium.
It was discovered in the 50's, when experiments were being performed to determine if canned food could be sterilized using high doses of gamma radiation. A can of meat product was
subsequently
exposed to a dose of radiation. Previously, these levels of radiation were believed to kill all known forms of life, yet surprisingly after the meat spoiled a newly discovered bacterium, Deinococcus radiodurans, was isolated.
Luckily for us, Conan the Bacterium doesn't seem to cause any apparent disease in humans. Although, it does live in materials such as sewage, meat, medical instruments, dust, and even some dry food products. Again similar to
Thermococcus gammatolerans,
Deinococcus radiodurans has the ability to repair its damaged DNA. It isolates the damaged segments in a controlled area and repairs it. This bacterium can also repair many small fragments from an entire chromosome. I
t can withstand ionizing radiation, ultraviolet light, desiccation, oxidizing and electrophilic agents. It can also survive up to 15,000 (Gy) with only a 37% loss of viability, and 5,000 (Gy) with almost no loss of viability at all. This means that the bacterium,
Deinococcus radiodurans, can survive the radiation of 3,750 Hiroshima blasts at 1000 feet.
#3 Milnesium tardigradum (water bears) - 5,000 gray (Gy)
The Milnesium tardigradum is a cosmopolitan species of tardigrade or water bear that lives in a diverse range of habitats, including the sea around Antarctica. They can even survive the vacuum of space. They have a range of responses designed to survive intense temperatures and harsh environments, some of which allow it to survive up to 5,700 (Gy) and remain viable.
T
he
Milnesium tardigradum
can even resurrect after exposure to dehydration, radiation, and the vacuum of space for up to 200 years or more. At 5,000 (Gy), they could survive the radiation of 1,250 Hiroshima blasts at 1000 feet.
#4 Braconidae (Wasps) - 1,800 gray (Gy)
The Braconidae is a large family of ancient parasitic wasps dating back to the Cretaceous period. Not only can they survive high radiation doses, around 1,800 (Gy) without completely losing their fertility, the females can also withstand extremely low temperatures, provided food and water are available, and in some incredibly durable specimens even if they are not.
Some of the species in the family Braconidae use a 100-million-year-old viral infection to alter its host DNA and cause the host to die or become sterile and less active. They then insert their larvae into the host body while the viruses suppress the immune system and allow the parasitoid to grow inside the host undetected. The viruses themselves have become so modified through their evolutionary use by the Braconidae that they appear quite unlike any other known viruses today.
At 1,800 (Gy), the Braconidae could survive the radiation of 450 Hiroshima blasts at 1000 feet.
Interesting fact: The species Microplitis croceipes possesses an extremely accurate sense of smell and can be trained for use in narcotics and explosives detection.
#5 Amoeba - 1,000 gray (Gy)
Amoebas are unicellular organisms which do not have a definite shape. When the amoeba is exposed to environments that are potentially lethal to the cell, it may become dormant by forming itself into a ball and secreting a protective membrane to become a microbial cyst. The cell remains in this state until it encounters more favorable conditions. This is one way the amoeba can withstand up to 1,000 (Gy) and another might be its ability to reproduce asexually or through binary fission. Binary fission is the ability to divide into two parts and regenerate those parts into separate cells, although they can reproduce sexually as well.
#6 Cockroaches - 100-9,000 gray (Gy)
The belief that cockroaches would inherit the Earth, in the event of nuclear warfare, became widespread after the United States dropped atomic bombs on the Japanese Hiroshima and Nagasaki in 1945. It was reported that the cockroach was the only survivor left in the destroyed and toxic Japanese city. We now know that many of the survivors weren't visible to the eye, but it was confirmed that the cockroach could and did survive. Despite this, its radio-resistance was much lower than was expected, although it was resistant enough to make it though that particular type of nuclear bomb.
Compared to some, in the terms of nuclear survivability, the cockroach is a pantywaist. In an experiment conducted by Mythbusters 10% of German Cockroaches survived 100 (Gy) or more, but all the specimens expired once levels reached 1,000 (Gy). This makes them only 6 to 15 times tougher than the frailer human species, and it's not much when compared to some of the other highly radio-resistant organisms. This means the cockroach could survive at 1,000 feet from the Hiroshima blast, but probably couldn't survive the megaton-range hydrogen bombs in today's nuclear stockpiles.
Cockroaches are able to withstand extreme radiation exposure due to the fact that they have slower cell cycles, only molting about once a week. This allows them to escape the radiation fallout relatively unharmed because minimal cells are damaged as they are not dividing and replicating rapidly, like human cells do. This narrows the opportunity time for the radiation to affect their cells and cause cell death or DNA deterioration.
animals that can survive a nuclear explosion, nuclear bomb, Hiroshima, Nagasaki, Chernobyl, cockroaches, amoeba, tardigrades, Deinococcus radiodurans, Thermococcus gammatolerans, extremophiles,
animals that can survive a nuclear explosion, nuclear bomb, Hiroshima, Nagasaki, Chernobyl, cockroaches, amoeba, tardigrades, Deinococcus radiodurans, Thermococcus gammatolerans, extremophiles,
animals that can survive a nuclear explosion, nuclear bomb, Hiroshima, Nagasaki, Chernobyl, cockroaches, amoeba, tardigrades, Deinococcus radiodurans, Thermococcus gammatolerans, extremophiles,
animals that can survive a nuclear explosion, nuclear bomb, Hiroshima, Nagasaki, Chernobyl, cockroaches, amoeba, tardigrades, Deinococcus radiodurans, Thermococcus gammatolerans, extremophiles,
animals that can survive a nuclear explosion, nuclear bomb, Hiroshima, Nagasaki, Chernobyl, cockroaches, amoeba, tardigrades, Deinococcus radiodurans, Thermococcus gammatolerans, extremophiles,
animals that can survive a nuclear explosion, nuclear bomb, Hiroshima, Nagasaki, Chernobyl, cockroaches, amoeba, tardigrades, Deinococcus radiodurans, Thermococcus gammatolerans, extremophiles,
animals that can survive a nuclear explosion, nuclear bomb, Hiroshima, Nagasaki, Chernobyl, cockroaches, amoeba, tardigrades, Deinococcus radiodurans, Thermococcus gammatolerans, extremophiles,
animals that can survive a nuclear explosion, nuclear bomb, Hiroshima, Nagasaki, Chernobyl, cockroaches, amoeba, tardigrades, Deinococcus radiodurans, Thermococcus gammatolerans, extremophiles,
radiation resistant organisms,radiation resistant organisms, radiation resistant organisms, radiation resistant organisms, radiation resistant organisms, radiation resistant organisms, radiation resistant organisms, radiation resistant organisms, radiation resistant organisms, radiation resistant organisms, radiation resistant organisms, radiation resistant organisms,radiation resistant organisms, radiation resistant organisms
Share on Tumblr