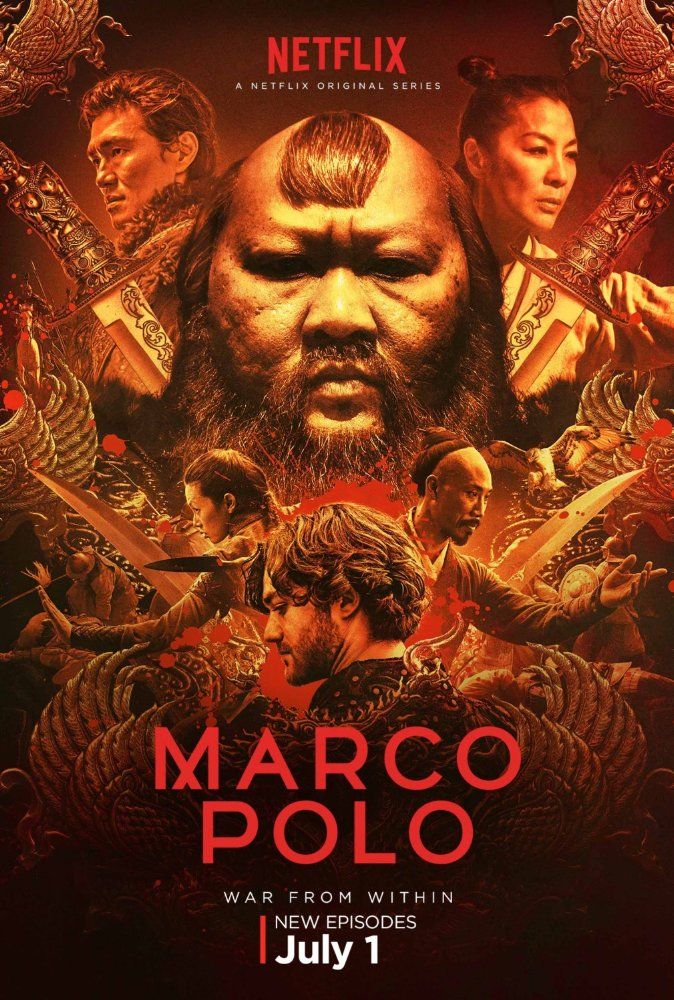 I binged watched the second season of
Marco Polo
on Netflix the past few evenings - superb, better than the first season in every way, and the first season was pretty good indeed.
I don't want to give anything away in the complicated, twisty story - with lots of surprises, even for those who know history - so I'll just mention some of the highlights -
The opening credits are themselves a treat for eye and ear - animated brushstroke with meaningful images, and evocative voicing you just can't get out of your head.
Probably my favorite single scene were horses set ablaze and running into the enemy camp - an assault via horseflesh, literally, deadly and devastating, with no loss of human life for the attackers.
There's a great mix of religion, especially Islam and Christianity, into the story. This was present in the first season, because Kublai Khan indeed welcomed all religions in his realm, but the religions play a much more decisive role in the second season.
Women have outstanding roles, as fighters, lovers, strategists, and indeed all aspects of life. A pleasure to see.
There was so much attention on Kublai in some episodes, and so little on Marco, that at times I was thinking the series could be better named Kublai. But Marco has some crucial moves, especially near the end.
A personal favorite of mine in the twilight zone between historical fact and myth is Prester John. It was good to see him brought into these battles for the world.
Gabriel Byrne makes a fine appearance as the Pope. And, actually, all the acting was top-drawer, with special kudos to Benedict Wong as Kubai and Joan Chen as his wife, the Empress Chabi.
Beautifully projected, brilliantly plotted, with an eye equally keen for the teardrop, which the blind monk hears, and the grand spectacle of a people who conquered more of the world than any other,
Marco Polo
is a masterpiece of historical drama, and I'm looking forward to more.
See also
Marco Polo: Evocative History