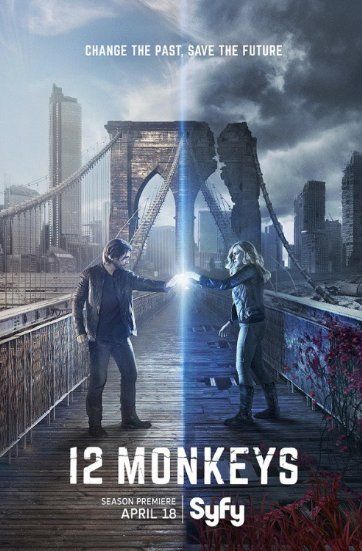 A strong
12 Monkeys
2.7 last night, in which the facility housing the very time travel device is itself under mortal attack, by none other than the Darth Vader-like "Witness".
Ok, that facility is always on the verge of breaking down, as befits an operation that looks like a Rube Goldberg 1950s B-movie science fiction set taken out of storage. But that low kind of super high-tech has always been part of the series' charm.
The time-travel device, of course, had to survive in some way, otherwise the narrative couldn't continue, so that was no big surprise. But the price was pretty high. Eckland's death was wrenching - mitigated only by the metaphysics of death not being necessarily final when time-travel is possible - but suggests, as I've mentioned before, that there's some kind of deeper reality underlying all of this time travel, which the universe tries to adhere to and ultimately come back to, as in the case of Eckland being killed in the original narrative, and now being dead again in this one.
And Ramse's son is somewhere in the very distant past. Which raises an intriguing question. Who exactly is this Witness? As someone notes during this episode, we don't even know what he witnessed. Is there any chance that the Witness is in fact Ramse's son, stranded in the past, growing up on his own?
This would be a profound change in the narrative. For the better part of a season and more, Ramse's actions have almost always been motivated by protecting his son. It will be interesting to see how this shattering development plays out for Ramse and everyone else.
See also
12 Monkeys 2.1: Whatever Will Be, Will Be ... 12 Monkeys 2.2: The Serum ... 12 Monkeys 2.3: Primaries and Paradoxes ... 12 Monkeys 2.4: Saving Time ... 12 Monkeys 2.5: Jennifer's Story ... 12 Monkeys 2.6: "'Tis Death Is Dead

And see also
this
Italian review
, w/reference to Hawking and my story, "The Chronology Protection Case"
And see also
12 Monkeys series on SyFy: Paradox Prominent and Excellent
...
12 Monkeys 1.2: Your Future, His Past
...
12 Monkeys 1.3: Paradoxes, Lies, and Near Intersections
...
12 Monkeys 1.4: "Uneasy Math"
...
12 Monkeys 1.5: The Heart of the Matter
...
12 Monkeys 1.6: Can I Get a Witness?
...
12 Monkeys 1.7: Snowden, the Virus, and the Irresistible
...
12 Monkeys 1.8: Intelligent Vaccine vs. Time Travel
... 1
2 Monkeys 1.9: Shelley, Keats, and Time Travel
...
12 Monkey 1.10: The Last Jump
...
12 Monkeys 1.11: What-Ifs
...
12 Monkeys 1.2: The Plunge
...
12 Monkeys Season 1 Finale: "Time Travel to Create Time Travel"
podcast review of Predestination and 12 Monkeys
#SFWApro