When Jhalak's episode shooting with Anil Kapoor became a gush fest!
It was a big blow to learn that not Hrithik Roshan or Akshay Kumar but Anil Kapoor was the chosen first guest to appear on Jhalak Dikhla Jaa season 9's first episode! So basically Hrithik Roshan recently revealed how he was approached to be the first guest to come on the show's pilot episode. However, since he already had a plan in place with his boys, he chose to ditch the promotions of Mohenjo Daro. Anil Kapoor, who also has his show, 24 started, decided to come on the show and promote the same.
Recently, Anil Kapoor made an appearance on Jhalak Dikhhla Jaa to promote the second season of his show 24. Karan Johar who is one of the judges on the dance show got nostalgic when he saw Anil and shared some of his memories with the actor. He was heard saying, "When Aditya Chopra and I were teenagers, we used to accompany our fathers to Bollywood parties. That time Anil Kapoor was one of the superstars who used to talk to us and make us comfortable. This quality makes him a superstar of all generations." After sharing this tidbit, Karan bent down and touched the actor's feet much to Anil's surprise.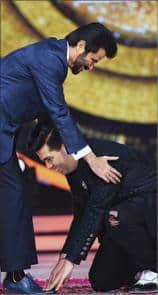 Well, it sure looks like the shooting became more of a gush fest with KJo going down the memory lane. The filmmaker sure has been judging a lot of TV shows lately. We hear that his co-judge Ganesh Hegde might be replaced with Farah Khan due to some 'headaches' the producers have been receiving from Mr Hegde.
Stay tuned to this space for more gossips and latest updates!