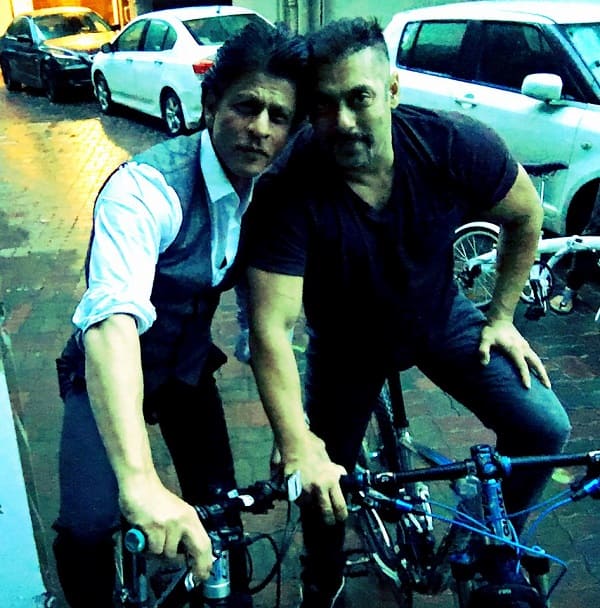 Take a look at the pic of the day/ week/ year…
Two biggest actors in Bollywood at the moment are undoubtedly Shah Rukh Khan and Salman Khan. For many years, people have been saying that there is a sort of cold war going on between the two, but the actors have shown time and again that they are anything but rivals. The two have been growing more and more friendlier over time, even as the their fans remain rivals. But this new pic will leave no doubt in your mind that King Khan and Bhai are good friends.
SRK just posted a really awesome picture on Twitter that will make Bollywood fan's day. In the pic, the Raees actor is coolly posing with the one and only Salman Bhai. Both of them are on cycles. Shah Rukh looked really well dressed in a white shirt, blue jeans and dark grey vest. Sallu Bhai was simply wearing a dark blue t-shirt that showed off his muscular physique. Salman Khan is also sporting his new haircut that he has been seen with ever since he wrapped up Sultan. This could possibly be his new look for Tube Light, but nothing is certain at the moment.
What really got us was how close the two superstars actually looked in this pic. With their heads together and smiling for the camera, they really look like really thick friends than anything else. Looking at this picture, it will be impossible for anyone to even imagine the two Khans having any professional rivalry. Other than the super cool pic, SRK also posted a cryptic tweet that said," Bhai bhai on bike bike. No pollution…bhai says "Michael Lal Cylcle Lal." Looks like the King Khan is trying to say something sassy.
Either way, from the way backdrop of the picture, we guess that it is still early morning. So maybe the two biggest superstars of Bollywood simply decided to go on a Bicycle Ride together on a fine morning? Also looking at the way the two are bonding, we sincerely hope that a day comes when the two actors do a movie together and make us relive the Karan Arjun days.