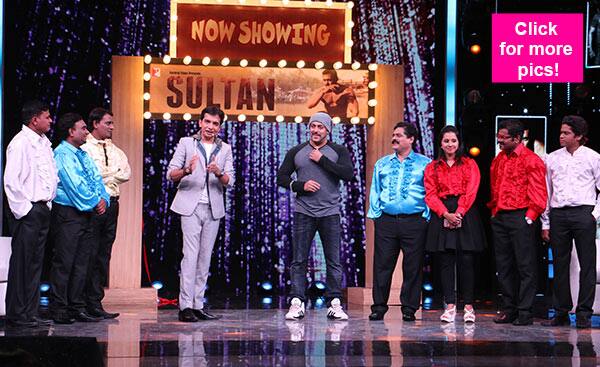 This is the first time Salman Khan has promoted his film in regional media! And that too, used the same tactic as Shah Rukh Khan. Check out pics from the sets.
Just like we have several comedy shows in Hindi where Bollywood celebs are invited as guests, even Marathi show, Chala Hawa Yeu Dya, that airs on Zee Marathi follows the same concept. Their popularity has been increasing and ever since Shah Rukh Khan made his debut in the show to promote Fan, a lot of attention has been given to this show. Probably that's why Salman Khan is also following his contemporary's footsteps as this is the first time he'll be promoting his film on a regional show.
The show is a standup comedy where celebrities are invited in each episodes as special guests and comedians continue their nonsensical farces that pertain towards making conversations with a background of music and dance. And this is the first time Salman attended the show. The show already finished shooting the episode with Khan in it and looks like they had one helluva time! A lot of things did happen at the show with the cast dancing to the tunes of Baby Ko Bass Pasand hai and a little mockery on Salman Khan's Tere Naam hair. The host and Salman even exchanged some chat and there were a few body builders at the set as well.
While we're super curious to know what happened on the show, we cannot wait for it to air! Are you curious too? Tell us in the comments section below! And stay tuned to this space for more gossips and latest updates!