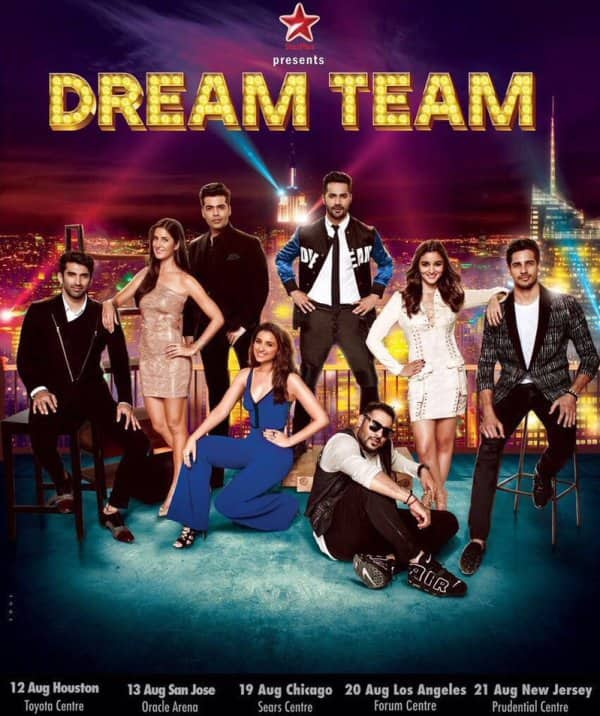 The biggest tour is about to begin and we are super excited…
A while back we revealed to you how Karan Johar was planning a Tour to USA with a few of the next-gen superstars and it seems everything is finally in place. The Dream Team including KJo, Sidharth Malhotra, Alia Bhatt, Katrina Kaif, Varun Dhawan, Parineeti Chopra, Aditya Roy Kapur, Badshah and a few other are ready to enthrall the crowds of 6 cities in America.
Starting from August 12, one of the biggest international tour will start and with Karan Johar helming this one, it will be nothing short of being huge! Each of the artiste will be seen performing a number of acts at each city over the 10 day tour. A poster of the tour was released today and most of the stars performing at the tour were on it. While Varun and Karan took centre stage, Sid-Alia were to his left and Katrina-Aditya to his right. Check it out above.
The actors have already started practicing for the show and we are sure it will be nothing short if entertaining. With such fabulous talents set to perform for the Dream Team tour, we are eager for the show to kick off. The dream team tour starts in Houston on August 12, after which they move to San Jose (August 13), then Chicago (August 19), then Los Angeles (August 20) and end at New Jersey on August 21. The bookings have already started and with the programme being associated with Star, the show may be shown on television later on.
Are you excited to see the Katrina, Sidharth, Alia, Varun dazzle the stage in 6 leading cities of America? Tell us in the comments section below! Also check out the video story about the Dream Team tour right here: