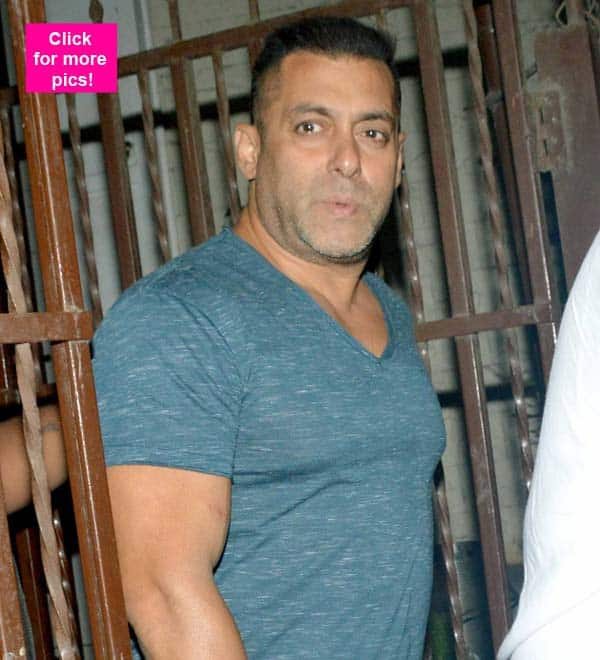 Because we just spotted him coming out of a recording studio!
We already know that Salman Khan as an actor is a heartthrob. Not just girls but even guys are gaga over how cute he is. Bhai's cute charm is what keeps his fans totally captivated. But here's something more about the actor that has fans going gaga. And it's none other than his singing career. In the past too, Salman has showcased his singing talents. Some of them have actually grown extremely famous, for example his love track for Hero, Main Hoon Hero Tera. Not only did the song break all records but also made Bhai fans go berserk in happiness.
It was noted that Bhai will sing for his movies and continue to win hearts of his fans. And looks like he continues to do so as the songs of his upcoming film, Sultan are being Released but soon, he too released his versions. If you remember, we were the first ones to notice that when Baby Nu Bass Pasand Hai was released, it marked Salman Khan's girlfriend Iulia's singing debut! The next song of Sultan, Jag Ghoomeya was released earlier this week and already the Bhai version yesterday! And now we've spotted the actor outside Shankar's Recording Studio. We're dizzy in anticipation wondering what's next for fans of Salman. Which song will he be releasing? Is there gonna be a complete album of Salman's version of Sultan?
What do you think fans? Tell us in the comments section below! And stay tuned to this space as we bring more gossips and exclusive stuff on Sultan!