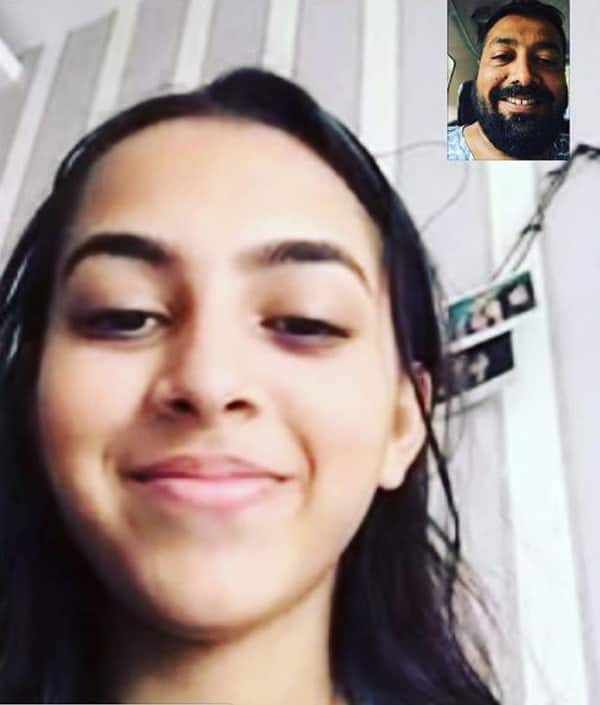 The father-daughter duo always get our attention…
Her father, Anurag Kashyap is considered as a trend-setter in Indian cinema, and daughter Aaliyah is also a star in the making. She is a teenager and is often seen partying with Sridevi's daughters, Jhanvi and Khushi Kapoor and Ibrahim Khan (Saif Ali Khan's son). People love her Instagram handle where she posts pictures of herself, friends, parties and her pet dog. Aaliyah is a pretty teenager and there is a old-world charm about her beauty that is extremely endearing.
Her dad recently posted a Snap of him Facetiming with Aaliyah and it was incredibly cute. The director pointed out how she did not strike a pose and was Sans Makeup. We have seen many snaps of the doting dad with his daughter, but this one is amongst the cutest. She seems completely at ease with the B-Town set.
Born to Anurag and his first wife, Aarti Bajaj, Aaliyah is a star in her own right. Many predict she has the X-Factor to become a heroine. She is quite a stylish girl as proved by her Instagram handle and carries off her clothes effortlessly. As a kid, she made a really pretty picture with her dad at Cannes.
Coming back to the snap, we are totally bowled over by the dad-daughter moment. Check out the image right here and tell us what you think about it in the comments section below…
That's me and @aaliyahk9 's stolen picture .. Finally unposed and sans makeup .. Facetiming with papa