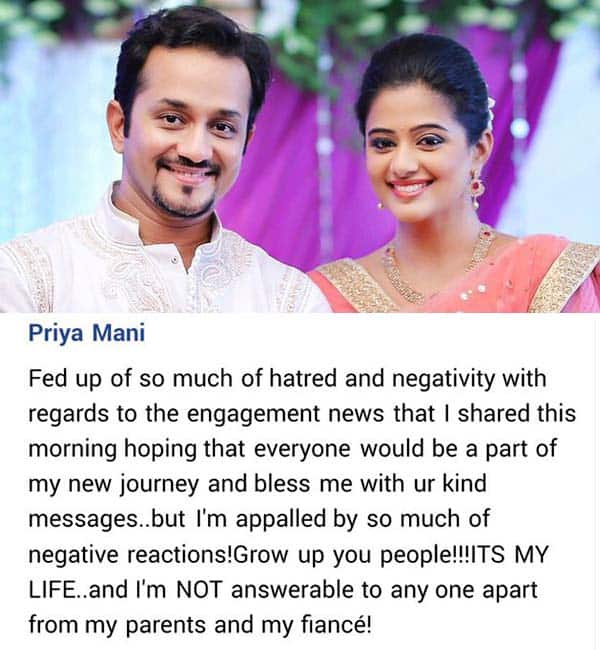 The actress was really not happy with the people's reactions when she posted a picture of her secret engagement to Mustafa Raj.
The biggest news over the weekend was Priyamani's hush hush Engagement. It was indeed a bolt of out of the blue as the actress suddenly posted a pic on Twitter and declared that she was engaged in a private ceremony. While such behaviour from celebs is not unusual, what was surprising was to see to the backlash she received on social media.
But Priyamani being the feisty one had the Perfect Comeback for her haters. The actress posted an angry message on her official Facebook page. She clearly stated that she was fed up of all the negativity surrounding her engagement and that she was appalled by the reactions she received. Fuming with anger, she asked her haters to grow up and that she was not answerable to them. Well, we are with you Priya and we feel that your anger is completely justified.
This has indeed becoming a very worrying trend on social media where we see fans spewing hate and judgement on celebs over the smallest of things. Recently, it was Devo Ke Dev Mahadev actress Sonarika Bhadoria who faced flak for posting pictures in a bikini. Although she deleted he post earlier, she later took on her haters head on and made her stand clear.
Coming back to Priyamani, the famous South Indian actress got engaged to her boyfriend Mustafa Raj on Saturday. Mustafa and Priya met each other on an IPL match in Bangalore a few years ago. Soon after which, they started dating and haven't looked back since.
Here's what she said exactly: