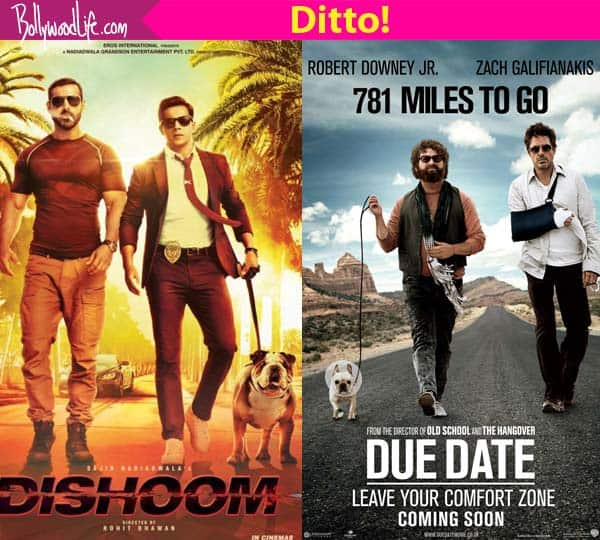 If only that dog wasn't there, we would not have noticed this!
Oh boy! Bollywood does it again! When we warn you guys that everything is there on internet and it is easy for us to find what is lifted and what's not, still our Makers have to look out to the West for 'inspiration'! It's like what Kangana's character in Tanu Weds Manu Returns says, 'Reebok nahi toh Rebokey hi sahi!
The reason for my first para rant is that the makers of Dishoom have released the first look of the film, and it was supposed to bowl us over! It did for a few minutes, because come on, Varun Dhawan and John Abraham was looking so cool in the Breaking Bad colour palette, showing off their swagger like they own the world! Their stylish posture was so distracting that we failed to notice the dog walking beside them. It was only later that we realise seeing the whole getup, including the dog, that we realise it was so similar to the poster of Robert Downey Jr and Zach Galifianakis's movie, Due Date. Well, you can check out the similarities above!
While the posters may look similar, we are sure that the plots will be quite different. Due Date was a comedy road trip about two dissimilar people who embark on a journey together, while Dishoom is an action thriller, with elements of match fixing and all (and it is not Jannat!)!
And this is not the first time they have done this 'getting inspired from other poster' stuff! Not only is the film's name so rhyming with Dhoom, their logos also have some very uncanny similarities.
Is this deliberate or something the makers haven't noticed? Hope they clarify on this matter…