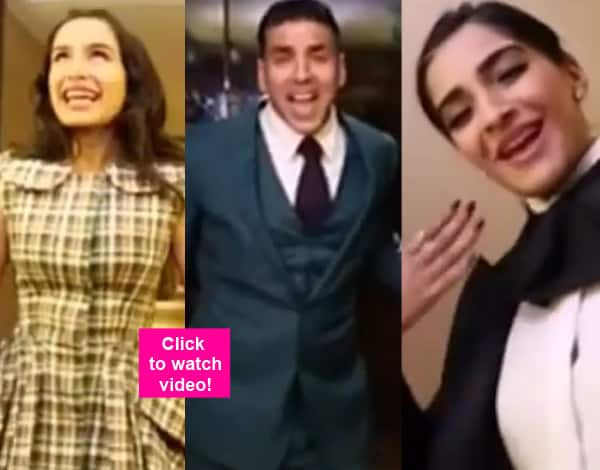 Leave everything you're doing and see what these actors are upto
Saame ye kaun aaya is playing on my head while I'm writing this. Watch this video right away and you'll know why. The Housefull 3 gang has come up with a really cool video and we just can't get over it! It has Akshay Kumar, Riteish Deshmukh, Jacqueline Fernandez, Lisa Haydon, Sonam Kapoor, Shraddha Kapoor and Manish Malhotra dancing on the all-time-favorite Kishore Kumar song Saame Ye Kaun Aaya.
With the signature head-shakes and happy and jerky dance moves of the 70s, these actors are killing it with their energy. The entire cast of Housefull 3 except Nargis Fakhri and Anhishek Bachchan can be seen in the video. Sonam Kapoor and Shraddha Kapoor joined in with the Housefull 3 stars to make this super fun, high-on-energy video. While Shraddha is looking all cute and bubbly, Sonam is going all out and having fun.
Akshay Kumar shared this video on Instagram and captioned it "Gang living it large old school style…What a #Housefull of style." The Housefull 3 team is loving each other's company and their pictures and videos on social media platforms are proof. The actors had gathered for the HT Style Awards and Housefull 3 team cashed on the occasion and roped in everyone for this cool video. Everyone is dressed for the occasion and are looking their stylish best but it's Sonam's suit and Riteish's under cut hairstyle that totally won us over!
Housefull 3 is slated to release this Friday and with the cool stuff these actors have been doing to promote the film, the week seems longer.
#Housefull3 Gang living it large old school style at the #HTStyleAwards2016 starring @sonamkapoor @shraddhakapoor @manishmalhotra05 @riteishd @jacquelinef143 @lisahaydon! What a #HouseFull of Style