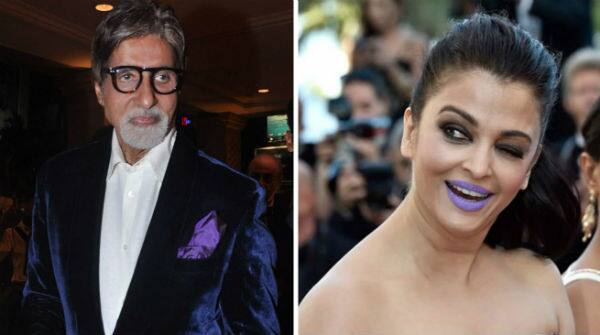 Does Sr Bachchan approve of Aishwarya's purple lips look or no? Read on to find out in this EXCLUSIVE interview with BollywoodLife…
With TE3N, Amitabh Bachchan revisits a genre he dabbled with in the late 70s and 80s. A whodunnit set in Kolkata, the film is an official remake of Montage, a Korean film. TE3N tells the story of a grandfather trying to put together pieces of an unsolved case — the mysterious disappearance of his granddaughter. Bachchan hasn't seen the original, his eyes light up when he describes the process of getting under the skin of this character, John Biswas. In a freewheeling chat, he talks to me about his love of the genre, his plans to produce more films and even his thoughts on the brouhaha over Aishwarya's purple lips at the Cannes Film Festival. Read on…
How does it feel to return to the whodunnits genre?
I think Indian cinema has always been making films like these. It's just that, given the stage I was at, earlier in my career, perhaps nobody thought of doing something like this with me. But now, there is an opportunity because of my age, which enables me to play an older, weaker character. You don't expect him to be able to do something and that's basically what the outline of the character is. John Biswas is a middle-class man, he is Anglo-Bengali and there has been a tragedy in the family. He only has his wife and son. His family doesn't live with him, but he's keen to find out what happened and how. He's not one of those vigilantes or smart Alecs. He is a very normal person and certainly doesn't look like somebody who is going to bash a few people up. He is keen to get into the details of what happened and how it happened. I don't think that he has revenge on his mind. I think he just wants somebody to confess that something like this has been done and that he is repentant about it.
Do you find this genre satisfying?
Yes, why not? Any genre is challenging and I think that all of us need to be challenged at some point in time.
In today's social media age, a lot of film plots and storylines leak before the release, does that frustrate or annoy you?
You cannot help it. On Friday, everybody is going to know about it in any case. I think somewhere in our minds when we go to see a film, we know what is going to happen. You know this leading man is never going to get killed or is not going to lose, it's just the excitement of the moment as to how he is going to be able to do it, that keeps you hooked and seated. I think somewhere we all know this can't happen to him, he is going to come out soon, somewhere we all know that. I guess that would be the reaction if the ending of thriller films are leaked.
Have you seen the original film that TE3N is based on?
I know it is a remake of a Korean film. Sujoy bought the rights and we met the original producers also.
But I haven't seen the film. I just felt it wasn't necessary for me to do that. Somewhere in the back of your brain, you have those images and that would be terrible for an actor.
How was it working with Vidya Balan again after Paa?
Wonderful. She is an exceptional actress. Vidya has done so well right from her first film Parineeta to now, I have been watching all her work. I worked with her in Paa and now this… so yes, a great experience.
You write these appreciation letters for actors whose work you admire, talk to me a bit about it.
I have always been doing this. Jaya and I have been doing this for long. If we like something, we send flowers or something. I just feel very strongly when I see something like this and I do write to them. It's wonderful. It's just great to see this generation, to see anybody, giving a good performance. It's so inspiring and you learn so much from them.
Young actors like Ranveer Singh and Deepika Padukone speak about being inspired by you. What is it about them that inspires you?
I just draw from their confidence, their absolute determination to have sorted out a vision in their career or life. About knowing that it's where they have to go. How they are so sure that this is how they are going to achieve it. That amazes me, because even now, after 47 years in this industry, I have not been able to do that. I can't plan, I can't decide, I don't know where I have to go. I don't even know whether I am going to get work tomorrow or not, but they are very brave, they are very confident, they are very aggressive about what they want to achieve and what they want to do and they are very cool about it because they know they are going to get it. That is something I want to learn. I don't have that quality. They have it and that's why I admire them so much.
Do you and Abhishek plan on producing more films?
Yes, Abhishek and I keep talking about it, we have certain thought processes going on. We keep looking for ideas and thoughts. We are unable to do it individually and independently — we tried it with ABCL and we failed. We obviously realised that this is not something we are capable of doing by ourselves. So we hold hands with people. So whether it's Pink or whether it's Paa or any film, we just work on the fact that we co-produce and share the equity.
What did you make of the fact that Aishwarya's purple lips look from Cannes was trending on social media for days?
No, I didn't see it, but what is wrong with that? Social Media gives someone the opportunity to express themselves. You've never had that opportunity before, you never knew what others were thinking about you, at least now you know. And the good part is, it lasts for a day or half-a-day; the next day, something else comes up. Things move so rapidly in today's life that you don't have time. One's attention span is so limited and so small. Whether it is watching the news on TV, every two minutes you hear a bang in the middle of the most sincere news, purely because they don't want you to get to your remote and change the channel. That's how life has become. Social media gives everybody a voice, everybody an opportunity, everybody a democratic opportunity to express themselves. What's wrong with that?