Kapil Sharma's one Tweet has shook not just the BMC but also raised a lot of legal battles for the comedian. Well, to be honest, two tweets. A frustrated Kapil on a Friday morning ranted out his despair over how irrespective of paying a whopping amount as tax, is still being asked to pay extra bribe to make his office. He had tweeted the same, "I am paying 15 cr income tax from last 5 year n still i have to pay 5 lacs bribe to BMC office for making my office." Of course, this led to a big outrage as questions of corruption took over the limelight. Now while a lot of people have already started taking sides, Amul's doodle artist, who always has a say on every controversy, drew a sketch that perfectly sums up the comedian's controversy!
ALSO READ: This Khan has finally come out in SUPPORT of Kapil Sharma – find out who!
Amul shared a doodle art on their Twitter page that had Kapil's sketch on it where he is showing the famous, "Babaji Ka Thullu" (we sure hope it is that!) to a BMC official who is holding a paper with the words, "FIR" on it. On the other side, there Amul's butter girl, munching on a bread with butter, dressed as a cop. Now just as always, Amul has hit the nail on the head with their doodle. So basically, post the frustration that Kapil showered Twitter with and even question PM Narendra Modi, he received a reply from Maharashtra CM Devendra Fadnavis assuring him that immediate actions will be taken. However, soon reports of Mr Sharma violating the norms of BMC by extending his office and destroying the mangroves region took headlines.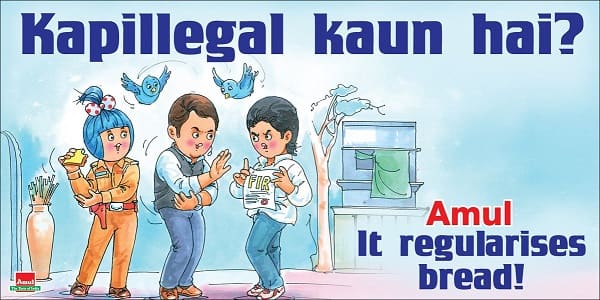 An FIR too was filed against him for the same with claims that he might face three years of imprisonment! Of course, so far a lot of digging is happening with this case as BMC is leaving no stones unturned to prove that Kapil's extended construction for his Oshiwara office is illegal and strict actions should be taken against him. A senior police office stated, "Supreme Court directions forbid us from making immediate arrests. The actors will have to submit an explanation which will be analyzed and scrutinized by our officers. Statements of the actors will be recorded. We will verify whether their submission fits what's legal. A final report will then be prepared." It sure looks like this trouble that comedian brought on his head might not die down soon as it has irked quite a few officials!
ALSO READ: Kapil Sharma WON'T be ARRESTED anytime soon, reveals police official!
"As of now, we have posted police teams at the highrise, DLH Enclave, to ensure that further alterations are not made and also to avert any law and order problems. We are yet to meet the two actors in person to serve them notices. The documentation is being prepared" , said another official as he also mentioned Irrfan Khan's name, who has been sent similar notice for illegal construction! While Kapil is pretty active on Twitter, post the controversial tweets that took place on Saturday, he shared another tweet, clarifying that he is not targeting any political party. His tweet said, "I just voiced my concern on the corruption I faced with certain individuals..Its No blame on any political party be it BJP, MNS or ShivSena"
Is he going to go underground and stay away from the limelight till this matter dies down? Since his last tweet was on 9th September itself, we're wondering if he's gonna go incognito so the whole fiasco around this controversy takes rest. What are your thoughts on that? Tell us in the comments section below!