Usually with stamps I can tell what they are about based on the image or the text...with this one I was just lost based on both...the image itself kinda resembled either some flower or crown..but since the text is in Arabic, I couldn't get anything from that - this is one of those languages where I cannot even type it into google translate and see what I get...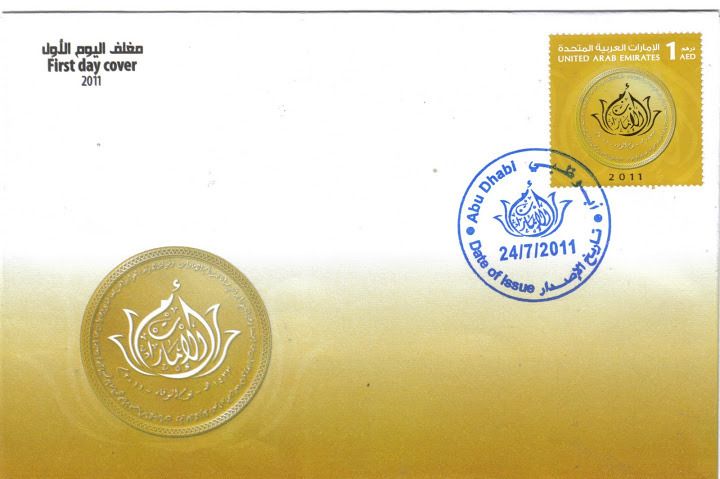 Turns out this issue had something to do with Fatima bint Mubarak Al Ketbi (is like a logo or something)...and of course I have never heard about her...till now. She is the third wife of the founder and the first president of the United Arab Emirates (UAE) and the late emir (ruler) of Abu Dhabi, Sheikh Zayed bin Sultan Al Nahyan. She is firstly called mother of sheikhs and then mother of the UAE or nation.
She is one of the women rights supporters in the country and has also done campaigns for girls' education and supports adult literacy and provision of free public education to girls.
In 1997, five different organizations of the United Nations, UNICEF, WHO, UNIFEM, UNFP and UNFPA, awarded Sheikha Fatima for her significant efforts for women's rights and the UNIFEM stated "she is the champion of women's rights". She was also awarded the Grand Cordon of the Order by the then Tunisian president Zine el Abidine ben Ali in 2009 for her contributions to raise the status of Arab women. Much more significantly she was given by the UNESCO the Marie Curie Medal for her efforts in education, literacy and women's rights, being the third international and the first Arab recipient of the award.
WOW! So many achievements and shame on me, had no idea who she was =/
Now it made me wonder if maybe I should have saved this for the subject on 'women'....but I think I have some other nice choices for that one...from a country not far away from this one, so you'll have to stay tuned :)
Date of Issue 24 July 2011
Width 40.0 mm
Height 40.0 mm
Denomination 1.00 AED
Perforations 13.5 by 13.5
Check out what's happening at Sunday Stamps for more unusual things
Sunday Stamps