well, since the day kinda calls for it, let's commemorate it with something Norwegian over here as well..
for those being 'what the heck is she talking about'....well just somehow 'celebrating' my one-year-lasting of learning Norwegian...probably seems like nonsense to be giving it this kind of attention, but those who know the spot Norway has in my heart, will understand it :)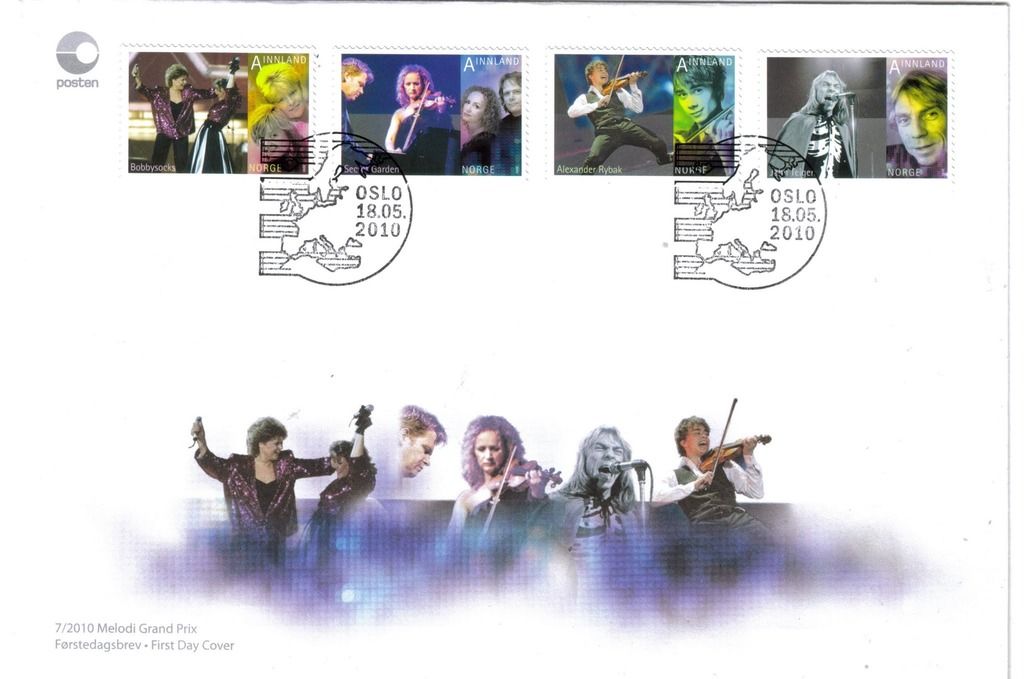 I've already rambled more than enough about it at my Geiranger post here, so I won't be bothering you with an additional episode of the "Ana is learning Norwegian" series, just showcase this beautiful Norwegian FDC!
Issued in 2010 on May 18th, to commemorate the Eurovision Song Contest, that in 2010 was held in Oslo, since the previous year Alexander Rybak won, an the fun fact here is that he is considered the highest-scoring winner, with a total of 387 points!
Now, I am not a Eurovision fan (used to be when I was a kid, and just occasionally watched it with friends later...but in the last ten years I am totally totally out of it).
However I sometimes stumble across some of those Eurovision songs and I do like some...and that's what happened with Alexander Rybak...I immediately liked it! (and yeah, Rybak is super cute too, so maybe that kinda influenced my judgement on the song too, who knows :P)
You can see Rybak on the third stamp...and on the other three you can also see other Norwegian contestants that had been winners (or have become memorable cos of something else....though personally I am clueless about them all, even though they had been winners during the years I followed Eurovision).
On the first stamp are Bobbysocks (won in 1985); second stamp - Secret Garden (won in 1995), fourth stamp shows Jahn Teigen - has represented Norway four times and had become famous for scoring zero, yes ZERO points when he took part in 1978...poor guy!
in the end, lets see what's all that Rybak fuss about :)) come on, he is just adorable!