One of the points I'd hoped to develop in my Realm Makers 2016 class, "A Theology of Speculative Fiction," was the difference between Biblical Worldview stories and contemporary CBA Christian Fiction. Like much of that study, I didn't have the time I hoped (my fault, not the organizers') to address some important concepts. This was one of them.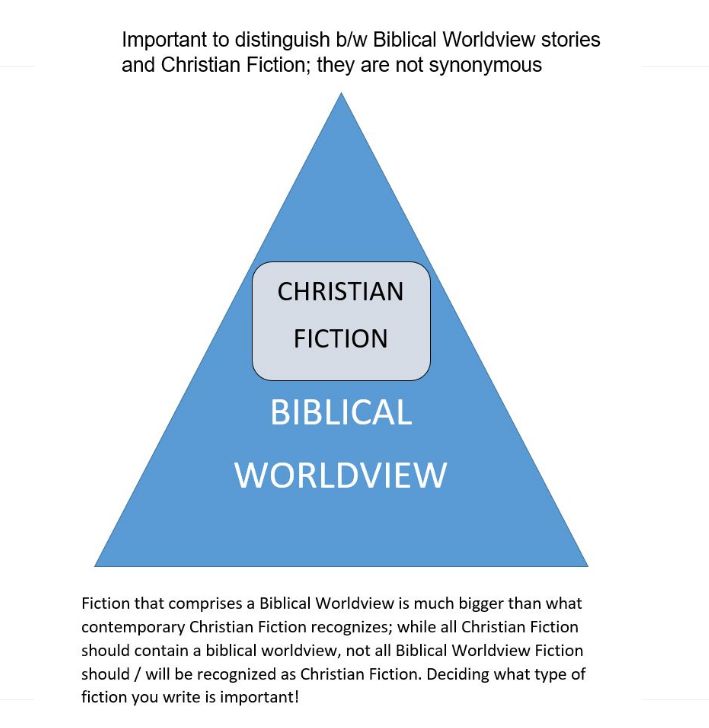 Many Christians conflate biblical worldview stories with Christian fiction. In fact, I had a discussion with an industry professional at the conference who said just that: "Biblical Worldview fiction is the same as Christian fiction." I countered with one simple question: "So can Biblical Worldview Stories contain profanity?" to which they replied, "Absolutely not!" Nevertheless, profanity and the people who use it exist within a biblical worldview. A monotheistic universe of Absolute Morals does not require the absence of profanity to exist. Just because someone cusses does NOT prevent a worldview from being biblical! But such is the murky theological roots of contemporary CBA fic.
In the chart on the left, biblical worldview stories are pictured as existing inside the blue pyramid. That pyramid could be divided into two halves, top to bottom, containing General and Special Revelation. General Revelation is "common grace," described in Romans 1-3 as an intuitive awareness of God, His attributes, and the Moral structure of the universe. This "awareness" makes Man "without excuse" (Rom. 1:20). Special Revelation, however, is a more specific, refined, understanding of God and the Universe. It involves the revelation of Scripture, an awareness of our own guilt before God, a basic understanding of His plan of salvation, repentance, faith, etc. The idea being that Special Revelation builds upon General Revelation.
From my perspective, Christian writers should write across the spectrum. We should be appealing to General Revelation, sowing seeds into ground that the Holy Spirit is tilling, and providing glimpses of Special Revelation. Readers without an explicitly "Christian" worldview should be able to engage our stories and catch glimpses of the biblical scaffolding.
Whole bunches of things can exist inside biblical worldview stories — violence, sex, injustice, death, depravity, and, yes, cussing — just as they actually exist within our world (the reality Christians see as framed in Scripture). Many non-Christians hold to a biblical worldview. Whether it is from an upbringing under Judeo-Christian influence or just intuition, they believe in a God, an Afterlife, and an Absolute Morality by which they will be judged. However, holding to a biblical worldview does NOT prevent one from being immoral and ungodly. Heck, the devil adheres to a biblical worldview… and remains the devil! He believes in God and trembles. In this sense, a biblical worldview story can contain profanity because the real world, the biblical world, contains profanity, evil, and all manner of things we disapprove of. Cussing, killing, and adultery does not make a worldview any less "biblical."
Christian Fiction, on the other hand, is framed by specific boundaries. While it exists within a biblical worldview, it only represents a cubicle within that world. Strictures such as no profanity, no graphic sex, no zombies, or explicit redemptive themes, are unique to the genre. They do not, however, necessarily frame a biblical worldview. CBA guidelines are far more evidence of a specific theology than they are necessarily representative of the larger biblical worldview. Much like a religious denomination emphasizes certain doctrinal distinctives (baptism, communion, eschatology, spiritual gifts, etc.) while sharing biblical "essentials" (see: Nicene Creed, Apostles Creed, etc.) with the larger Church, CBA fiction is more like a denomination within the larger Body of fiction writers / readers. It shares their worldview, but chooses to emphasize specific distinctives. So while all Christian Fiction should contain a biblical worldview, not all Biblical Worldview Fiction will be recognized as CBA-style Christian Fiction.
So that's my going theory. I'd love your suggestions and input. Am I missing something here? Do you think Biblical worldview fiction is the same as Christian fiction? Or should we be careful not to conflate the two? Thanks for reading!