How about a treat that's sweet and salty, plus makes your house smell like Pumpkin pie? I say, yes please! We devoured a batch of these Pumpkin Spice Pretzels in minutes. Pumpkin pie spices, melted butter, and sugar are tossed with mini pretzels and baked, for a delicious, autumn-spiced treat.
Ingredients for Pumpkin Spice Pretzels:
3 cups mini pretzels
2 Tablespoons melted butter
1/4 cup sugar
2 teaspoons cinnamon
1/4 teaspoon each of ground ginger, cloves, allspice, and nutmeg
Preheat oven to 300° and line a baking sheet with parchment paper.
Combine the sugar and spices together. In a large bowl, toss the pretzels, melted butter, and sugar/spice mixture together. Hands work really well for mixing this, and my kids don't mind getting messy! I especially like making this recipe with the square pretzels, since all that delicious butter/sugar/spice mixture gets trapped in the holes. Yum!
Spread the pretzels in a single layer on the baking sheet. Bake for 20 minutes, flipping once.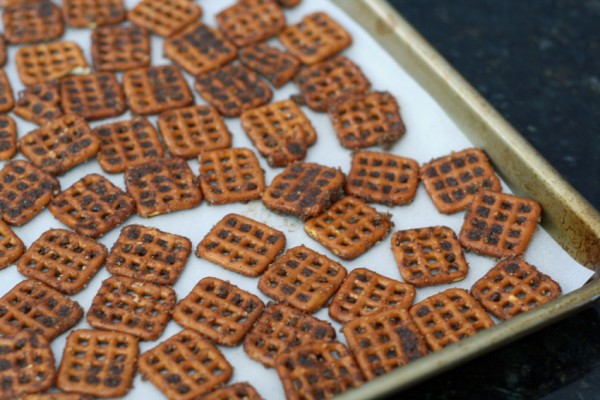 Let the pretzels cool completely (if you can stand to wait). We think these pretzels are the perfect combination of sweet and salty, and so addicting!
A batch of Pumpkin Spice Pretzels would make a fun after-school snack, or a delicious fall treat to gift to friends or neighbors. Enjoy!
The post Pumpkin Spice Pretzel Treats appeared first on Make and Takes.