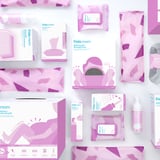 So you've just given birth and are thinking about the 40,000 products you have ready to go for your baby - but then you have to pee, and it's obviously a damn war zone down there, but no one has given you any products to specifically care for yourself after birth. Unless you count the flimsy mesh undies, wee-wee pads, burn relief spray found in the foot care aisle of the drugstore, and diapers ripped open and filled with ice cubes "products." After having her second child, Frida CEO and mom of three Chelsea Hirschhorn decided that this archaic "care" process for postpartum moms needed to change, and by the time she had her third child, Frida Mom, a line of postpartum products that actually cater to new moms, was also born.
At an event in NYC for the launch of Frida Mom, I was handed a card congratulating me on the birth of my son, a 9-pound, 8-ounce cherub whose head apparently caused third degree tears in my perineum. Now I have 12 stitches holding my womanhood back together and two painful hemorrhoids - thanks, kid. Although I've never actually experienced this phenomenon myself, having been a parenting editor for the last four years, I've learned more than my fair share about postpartum life than any childless woman probably has before - and that, Chelsea says, is actually part of the problem.
No one is really educating soon-to-be brand-new moms about what's going to happen to their vagina after a vaginal birth, or what their recovery process is going to look like if they deliver via C-section.
Image Source: POPSUGAR Photography / Alessia Santoro
"You're expected to tend to a newborn in between concocting ice remedies from the incontinence and burn relief aisles of your local drugstore while perched on a wee-wee pad."
"The problem with postpartum recovery begins with a woman's lack of knowledge and ability to prepare for what's really about to go down. The intimidation factor - before, during, and after - is debilitating," Chelsea said in a press release. "Then you're expected to tend to a newborn in between concocting ice remedies from the incontinence and Burn Relief Aisles of your local drugstore while perched on a wee-wee pad - my exact discharge instructions after I delivered my first child."
This is the beauty and genius of Frida Mom.
Its portfolio of products includes those similar to the makeshift versions offered in hospitals and DIY'd once back at home, but instead of each visit to the bathroom taking an exorbitant amount of time and energy - not to mention the pain involved - Frida Mom's five-step system and supportive postpartum undies make it so you can actually get through your recovery feeling supported and taken care of.
And Chelsea backs every single one of these products, which are now available at Target, Amazon, and BuyBuy Baby. "I tested every single product myself during my third vaginal delivery and recovery to make sure we nailed it," says Chelsea. "And we did."
Read more about each product in the Frida Mom line below, and see clips of Chelsea's first birth - back before she knew how much change she would bring to postpartum care - in the line's introduction video above.