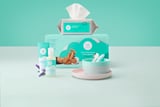 Target's adorable baby line, Cloud Island, is expanding! Beginning Jan. 20, Cloud Island's 30 new baby essentials, including diapers, wipes, mealtime products, and toiletries, will be available in-store and online - and the best part? While all of the products are under $22, most things fall under $10 and are as little as $1.
"With all of Target's new brands, we think about ways to expand upon the original idea," Mark Tritton, executive vice president and chief merchandising officer at Target, said in a press release. "As we talked about Cloud Island, the essentials category was always there. The idea was around better-for-you, dependable, affordable, and accessible products that are good for your baby and your family. Now, building on the success we've seen with the brand over the past year, we're bringing that idea to life."
Get a sneak peek of the line's new additions ahead - can you even with those cloud-print diapers?!