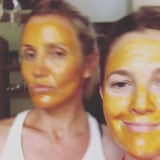 Saturday mask @beekeepers_naturals tastes good too! Great anti aging, anti acne and anti oxidants and hydrating. It's what's up! #girlfriendactivity #weekendcare #thankyoubees #notstickyatall #eatingitoffmyface
Saturday is mask day for BFFs Drew Barrymore and Cameron Diaz, and that's exactly the kind of weekend inspiration we're looking for. The longtime friends took Saturday to focus on their self-care together, opting for golden face masks that don't just look good - Drew says they taste good too!
This is the second time this month that we've seen the actresses reunite for some stunning selfies. Drew and Cameron have known each other for almost 30 years and their friendship is just as lovely as it was back in their Charlie's Angels days. Find yourself a BFF to stick by your side like Drew and Cameron, you'll be so thankful later!