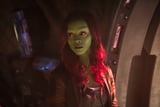 Warning: Yep, even this post will spoil Avengers: Infinity War if you haven't seen it. Some of these don't NEED context, y'all.
When it comes to movies and TV shows, we're in the height of what you might call "spoiler culture." There are those who avoid spoilers at all costs and are devastated when something is ruined for them, and those who seek out ruinous information and are inclined to spoil things for others. This great battle has really exploded in light of Avengers: Infinity War. With high stakes, many potential deaths, a game-changing postcredits scene, and so much more, there's a lot that stands to be ruined for the fan who hasn't gotten a chance to see the film yet. Naturally, the internet has found a way to make fun of even this: by posting "spoilers" that are "completely without context."
Basically, it's like a non sequitur: these people are posting completely random images that correspond with something that happens in Avengers: Infinity War. Once you've seen the film, though, everything makes sense. But even with something like this, which seems harmless and fun, it's not hard to figure out exactly what the context is . . . even if you still haven't seen the film. So proceed with caution: these hilarious "spoilers with no context" tweets are still spoilers at the end of the day. But hey, at least they're funny as well.