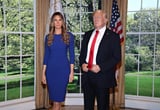 A Melania Trump Wax Figure just made its debut at Madame Tussauds in New York City, and guys, it's actually pretty darn realistic - almost creepily so. On April 25, the museum held an event to unveil the First Lady's waxy lookalike, and somewhat unexpectedly, former White House Press Secretary Sean Spicer was the lucky fella appointed to preside over the ceremony.
The First Lady's waxen duplicate is part of a new Madame Tussauds experience called "Give Melania a Voice," which will allow visitors to publish tweets on Melania's behalf via the @MTMelaniaMoments Twitter account until May 31. Hah, totally nothing could go wrong there! I wish I could chalk this up as good ol' fake news, but alas, this museum installation is, in fact, real, and it's sure to be rather interesting.
Below, get up close and personal with Melania's wax figure and see all the hysterical things people are saying about it on Twitter.