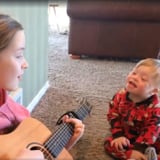 After asking her daughter to babysit her younger brother while she was in the shower, Amanda Bowman Gray stepped out of the bathroom to quite a scene: Lydia playing her guitar and singing a duet version of "You Are My Sunshine" with Bo, her 2-year-old brother. Despite the fact that this type of sibling love is adorable at its core, Amanda shared the video as "proof that music therapy works." Bo, who has Down syndrome, has a 12-word vocabulary that comes completely from music.
"If she didn't have a guitar I don't know if she would know how to babysit him. This is her go to . . . " Amanda said of Lydia in the caption of a video she posted of the pair singing. "Bo is 25 months old and has a 12-word vocabulary. Every word he has learned has been through music and singing."
In the video, Lydia can be seen strumming her guitar while Bo sits beside her, swaying along to the music. At the end of each line, Lydia pauses to let Bo sing the last word, which he delivers each time with a huge and adorable smile on his face. The pair tapers off and stops singing, that is, until their other brother hops in, restarting the sweet sibling sing-along.
"We were told awhile back that our lil caboose Bo would inspire and teach the world someday. At that time I don't think Caleb and I could comprehend or even imagine it to this extent," Amanda wrote in a follow-up post to Facebook. "He is a blessing. He has brought a sweet spirit into our home and a little piece of heaven. He has changed our lives and humbled us beyond measure. My older children along with us are changed forever because of him. All he knows is how to LOVE. Simply LOVE unconditionally. What more could parents ask for? Thank you for seeing the beauty of this video as it bring awareness to Down syndrome but also that music Therapy ROCKS!"