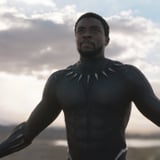 Have your popcorn and soda ready for the Black Panther movie! Like its siblings, Marvel's latest installment is one of this year's lengthier blockbusters. Within the Marvel universe, Black Panther is in a league of its own. In addition to having an enormously stacked cast (seriously, we're in love with Chadwick Boseman), the movie will give us a closer look at Wakanda's society, which means there will be plenty of time devoted to worldbuilding. Not that we even mind, since seeing all of the sleek action sequences and cool gizmos will be worth keeping our theater seats warm.
Clocking in at two hours and 14 minutes, Black Panther isn't the longest Marvel movie (though it's pretty darn close) - The Avengers takes the cake with a running time of two hours and 23 minutes. It is, however, the longest Marvel solo debut. According to IMDb, it ties with X-Men 2 in terms of length, placing below The Amazing Spider-Man and right above X-Men: First Class.
Staying a little extra after the credits roll will be worth the wait. Anyone who's familiar with the Marvel franchise will enter the theater looking for two things: Stan Lee's cameo and at least one after-credits scene. Well, this time around, the Marvel gods have smiled down upon us and blessed us with not only one but two postcredits scenes. Without spoiling the movie too much, we know that one of them directly ties in with the postcredits scene in Captain America: Civil War. It's most likely a setup for Avengers: Infinity War, which will also be coming out this year.
Suffice to say, even Black Panther's intimidating running length won't scare us from wanting a sequel, pronto!