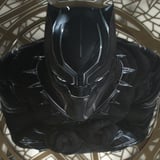 If you're like us, you're probably bopping along to Black Panther's awesome soundtrack, which is produced and curated by the one and only Kendrick Lamar. Lamar and SZA have recently released the music video for "All The Stars," a blessing for us mere mortals. While the collaboration is truly a gift, it's not the only song that we love from Black Panther's album.
Marvel's latest soundtrack veers away from the traditions of its predecessors. Marvel typically pulls its blockbusters' music from the repertoire of American pop oldies - think Fleetwood Mac's "The Chain" in Guardians of the Galaxy Vol. 2 or Led Zeppelin's "Immigrant Song" in Thor: Ragnarok. This time around, though, we get a soundtrack full of modern, mostly new music with songs from The Weeknd, SZA, and Vince Staples, just to name a few of the star collaborators on the album. The R&B and hip-hop collection is not only catchy, but also contains powerful political messages that resonate with the Black Lives Matter movement.
While you can listen to the entirety of the soundtrack on Spotify already, you might want to pick out your favorite songs used in the ultrasleek, action-packed trailers and TV spots. We've rounded up all of the music used in Marvel's Black Panther promos below, just in case you've been trying to track them down.
Teaser Trailer
Song: "Run the Jewels" by Legend Has It
Catchiest lyrics: "Woo! Woo! / Step into the spotlight, woo! Woo!"
Official Trailer
Song: "BagBak" by Vince Staples (remixed with Gil Scott-Heron's poem "The Revolution Will Not Be Televised")
Catchiest lyrics: "You ain't gotta worry / Don't be scary 'cause we on now"
TV Spot: Rise
Song: "Opps" by Kendrick Lamar, Vince Staples, and Yugen Blakrok
Catchiest lyrics: "Y'all don't want money, y'all don't want from me / Y'all wanna die in the chase of things / We all gon' die and embrace the thing"
TV Spot: War
Song: "Pray For Me" by Kendrick Lamar and The Weeknd
Catchiest lyrics: "Who need a hero? (Hero) / You need a hero, look in the mirror, there go your hero"
TV Spot: Let's Go
Song: "All the Stars" by Kendrick Lamar and SZA
Catchiest lyrics: "'Cause maybe the night and my dreams might let me know / All the stars are closer, all the stars are closer, all the stars are closer"