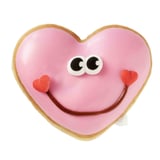 Whether you're spending Valentine's Day with your sweetheart or planning on riding solo, one thing's for sure: there's nothing wrong with celebrating the holiday by munching on these Oreo Krispy Kreme doughnuts. Seriously, talk about a match made in heaven!
There's also a Sprinkle Heart (think an unglazed doughnut dipped in white icing and topped with multicolored sprinkles) and the unglazed Happy Heart variety, which is dipped in pink icing, filled with white "Kreme," decorated with sugar hearts, and finished off with an adorable chocolate smile.
And last, but certainly not least, there's a circular Chocolate Iced With Sprinkles variety, which looks just as good as it sounds.
These heart-shaped desserts hit Krispy Kreme stores on Jan. 29. But don't get too comfortable with them, since V-Day is the last day they're available, so get 'em while they're hot. Literally.