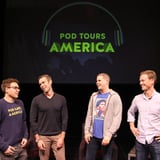 Thank pod. 🙏
Proud to welcome @podsaveamerica to the #HBO family. https://t.co/VdOuzQhlOL pic.twitter.com/QmK0sHXz8T

- HBO (@HBO) February 8, 2018
Straight shooters, rejoice: Pod Save America is about to get the HBO treatment we've all been dreaming of - or at least, we all know Jon Lovett's been dreaming of.
Lovett and former Obama-era staffers (and podcast legends) Jon Favreau, Dan Pfeiffer, and Tommy Vietor are all on board to star in a series of hour-long specials in the lead-up to the 2018 midterm elections. In the year since President Donald Trump took office, Pod Save America has become required twice-weekly listening, and according to HBO, it has racked up a staggering 175 million downloads since its January 2017 launch.
In a statement released by the cable network, the Pod gang collectively noted that "The best part of Pod Save America is taking the show on the road and meeting activists, candidates and people who are getting involved in politics for the first time," adding, "They know that the 2018 midterms are the most important elections of our lifetime, and the energy and excitement on the campaign trail is infectious. We are so grateful that HBO is taking a chance on us, even though these live shows will have so few dragons and sex robots."
Since the specials aren't slated to air until the Fall, if you haven't already hopped on the Crooked Media bandwagon already, the good news is you've got loads of time to catch up on all the glorious content the team behind Pod Save America has to offer. And you can bet we'll be bringing you all the latest details on this exciting new development, as and when we get them.