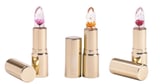 Don't lie - you've practiced your imaginary acceptance speech into a hairbrush "microphone" at least once in your life. If you truly want to commit to the award season fantasy, you can up your game by purchasing a mystical beauty product that will be in this year's Oscars Gift Bag.
Per tradition, every nominee is treated to a swag bag chock-full of expensive goodies. Last year's gifts (such as a private stay at a ranch in Northern California and a $100 cellulite massaging mask) totaled up to $100,000. Yup, that's more than most yearly salaries.
Luckily, this year, one totally affordable product will grace the luxe lineup. According to Albuquerque CBS affiliate KRQE, a young startup called Blush and Whimsy will gift its Magical Color Changing Lipstick ($22).
This isn't the first time Blush and Whimsy, which works with a nonprofit to employ people with disabilities, has been included in a celebrity swag bag. These rose-petal-filled lippies also graced this year's Grammy Awards goody bag.
As Blush and Whimsy owner Micaela Brown told KRQE, "To be asked to participate in something on such a large scale like this, it means our message is really getting out there." Brown also added that she hopes increased awareness of her brand will lead to the company creating more jobs for disabled people in the community.
As for the "magical" lipstick, the name doesn't lie. The three vegan and cruelty-free shades are made of cocoa butter, olive oil, grape seed oil, and lavender oil. This hydrating blend changes color based on the pH and temperature of your skin, giving you a bespoke, "mood-matching" shade with every swipe. Read on for a peek inside this year's Oscars gift bag!