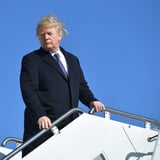 When Trump boarded Air Force One on Feb. 1, it was a particularly windy day. As he marched up the red staircase, something spectacular happened by way of Mother Nature's #resist-ing: his hair was literally blown over by a gust of wind, revealing the landscape underneath his "contained island" of gauzy blond.

It was all caught on video, too.
This rare occurrence was caught by Huffington Post's Ashley Feinberg who shared the finding on Twitter. Feinberg assumed the video was manipulated or faked but confirmed the situation via images from both Getty and Reuters. As Jonathan Chait of New York Magazine observes, the footage is perhaps, "the worst hair day of what has been a bad hair life."
We don't yet know if the president has seen the photos or videos of his hair attempting this great escape, but we can all assume we will hear about it at some point in the near future, be it via Twitter or a white knuckled-press conference. But it's pretty safe to say that the worst case scenario will consist of yet another stinging rebuke of the lying media, a dismissal of the entire situation as fake news. Conversely, the best case scenario? He will declare war on his own scalp - though granted, he already appears to be at war. . . considering his head appears to have its own DMZ.