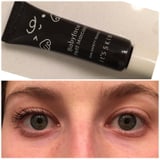 [Review] As someone with short Stubby Blonde Eyelashes I am super impressed with Babyface Petit Mascara and it's only $3! from r/AsianBeauty
Finding the perfect Mascara is a never-ending beauty quest, much like nailing down a number one red lipstick or nude nail polish. That pursuit gets all the more difficult when you've got short or stubby eyelashes. Luckily, one Redditor swears she's got the answer - and upon looking at the results, we're inclined to agree.
A makeup enthusiast who goes by the handle Linsage posted a picture of herself wearing Babyface Petit Mascara ($7) to the Asian Beauty subreddit. "As someone with short, stubby blonde eyelashes, I am impressed," she captioned the image.
In the side-by-side above, you can see how the tube enhanced her uncurled lashes with just two quick coats. The result is thick and sweeping, and we especially love how it subtly amps up the appearance of her lower lashes.
Linsage then went on to clarify some details about the mascara: it's not waterproof (so maybe it's best to not apply before watching a sob-fest Grey's Anatomy episode). That means, according to Linsage, this option is easy to take off. As she wrote, just "Warm water does the trick" in wiping away Babyface. It doesn't smudge, but Linsage did warn that, "By the end of the day it flakes a bit." However, she went on to say that it's pretty long lasting.
Sure, the search for a holy grail mascara is a lifelong journey, and we'll probably continue to hoard dozens of tubes. But this drugstore addition almost makes us want to settle down with just one option forever. Almost.