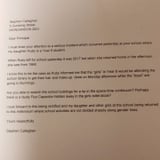 I wrote a letter pic.twitter.com/oFJp7egVnf

- Grumplestiltskin (@2FBS) December 6, 2017
A dad in New South Wales, Australia, made sure his opinion was heard after his Daughter told him about the sexism she experienced at School. The dad, Stephen Callaghan, wrote a letter to his daughter Ruby's school after she explained the gender-specific activities planned as a celebration for her year-six graduation. The girls were scheduled to get their hair and makeup done in the school library, and the boys were to be sent on a trip to Bunnings, a hardware-store chain. Stephen didn't find it very appropriate to divide the celebratory activities in such a clear way - who's assuming all the girls want hair and makeup done and wouldn't prefer to go to the store?
In a letter to the principal that Stephen shared on Twitter, he wrote, "When Ruby left for school yesterday it was 2017, but when she returned home in the afternoon she was from 1968." After explaining the activities Ruby informed him about, he continued to sarcastically ask, "Are you able to search the school buildings for a space-time continuum? Perhaps there is a faulty Flux Capacitor hidden away in the girls toilet block?" referencing Back to the Future. In a separate tweet, Stephen mentioned his daughter wants to be an engineer and doesn't "give a rat's arse about make-up."
My daughter's end of year activities for Year 6.

Girls - hair and make-up in the school library

Boys - DIY workshop at Bunnings.

Sigh.

Will things ever change?

My daughter wants to be an engineer. She doesn't give a rat's arse about make-up.

- Grumplestiltskin (@2FBS) December 6, 2017
Ruby and I would like to thank you for the great comments of support. At 12 years of age my daughter is starting to notice there are plenty of people prepared to tell her what she can & can't do based solely on the fact she is female.
She would like this to change.
So would I.

- Grumplestiltskin (@2FBS) December 7, 2017
Many people responding to the tweets seem to have had similar experiences with their kids. Here's hoping the dad's letter doesn't go unanswered.