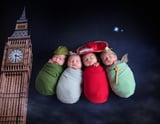 When asked to think of a wonderful thought (any happy little thought), newborn babies are one of the things that comes top of mind for me (along with pizza and kittens), which is why this Peter Pan-themed newborn photo shoot has got me grinning from ear to ear. After her photos of six baby girls dressed up as Disney princesses went viral last Summer, Karen Marie of Belly Beautiful Portraits is back to making Disney-lovers swoon over her creative and adorable newborn photos, this time featuring Captain Hook, Peter Pan, Wendy Darling, and Tinker Bell.
Following the Disney princesses shoot and a Disney villains shoot, Karen Marie's studio decided to focus on solo Disney movie themes for its newborn sessions. "Disney movies have always been such an inspiration to me, as well as the detail of each and every thing Disney creates," Karen Marie explained to POPSUGAR.
The photographer noted that she comes up with the themes and creates all the sets herself - but gets some prop help from Sew Trendy accessories and Off My Hooks - then puts a call out for newborn models that moms can respond to. "Peter Pan was just the first of many more shoots to come," she said. "We have already started the next set and costumes for one of my absolute favorite movies and will be shooting it soon!"
Check out all of Karen Marie's beautiful photos ahead - they'll have you flying straight to the second star on the right in spirit.