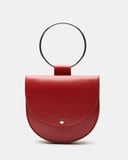 Searching for the perfect Birthday Gift for your stylish best friend can be super stressful. You want to give her something that shows her how much you care and how well you know her tastes.
We've collected some of the latest on-trend pieces to gift to your bestie. Whether she loves must-have accessories, cute home decor items, or luxurious loungewear, we've found presents that will make her smile. Red berets, zodiac-inspired jewelry, and modern mix-metal hoops are just some of the gifts she's guaranteed to love.
Keep reading to see February's most covetable gifts that you might even want to keep for yourself.