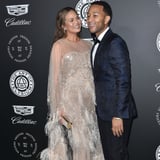 Chrissy Teigen has been pretty consistent about updating her fans on the status of her second pregnancy, tackling everything from potential Baby names to sharing just how quickly her belly is growing on social media. But unfortunately for her followers, the 32-year-old supermodel and her husband, John Legend, agreed to keep mum about their second baby's Gender.
In an interview with Entertainment Tonight, Chrissy dropped the mother of all truth bombs before hosting Lip Sync Battle LIVE: A Michael Jackson Celebration. "I know I share everything that I want to say it so badly, too," she said. "John's like, 'No, let's have something for us.'" She went on to joke about potentially revealing the gender on live TV, saying, "I'll tell you later. Maybe I'll just randomly say it on Live [With Kelly and Ryan] tomorrow." And as you could've guessed, that never happened.
Sigh. To be fair, as much as we are dying to get the scoop, some things - like the gender of your baby - can totally remain private.