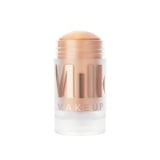 Image Source: POPSUGAR Photography / Alaina Demopoulos
Forgive me, skincare Gods, for I have sinned. Over the long weekend, I committed just about every clear skin faux pas you can imagine. I stuffed my face with Camembert cheese and washed the slices down with cafe au laits - no almond milk for this lady. I stayed up late, slept in my makeup, and popped a pimple. The scope of my bad behavior was obscene in its excess. Luckily, this is why we have full-coverage foundation, which I beat my face with this morning and secured down with copious amounts of setting spray.
I felt content with my coverage, but fate had other plans. It came via Milk Makeup's new Luminous Blur Stick ($36), a primer that ended up on my desk today. This product is similar to its older sister, the OG matte Blur Stick, except this one has a slight iridescent shine to it. Along with smoothing over pores and fine lines, this pearl-infused chubby mattifies your complexion.
Of course, primers are meant to be placed under foundation, but the Milk press release suggested wearing this glowing formula on its own for a "flawless finish." I didn't think a primer - let alone one in stick form - would be enough to hide the blemish bacchia that currently lives on my face. But in the name of intrepid journalism, I decided to test it out.
So I took off my makeup (pour one out for how good it looked) and swiped Blur Stick all over my face. The first thing I noticed was its creamy texture, which is heavier than most primers I've tried. Since I was looking for a strong base, this was a good start to me. Maybe, just maybe, I could get away with not wearing foundation.

Image Source: POPSUGAR Photography / Alaina Demopoulos
While I didn't notice much of a "glow" from the stick, it did cover my dark spots and acne rather well. Of course, it didn't do the job of a full-coverage foundation, but it did smooth over my complexion and give me a little bit of a healthy-looking ruddiness that I think is cute.
Basically, if I woke up one Sunday morning and didn't feel like wearing makeup, but did want to even out my skin, I'd reach for one of these puppies. It doesn't hurt that the swiping application is totally foolproof - I'll be hoarding these in my gym bag from now on.
Sure, it would be lovely to wake up poreless and glowing every morning, but for the days you don't, it's nice to have a light-coverage option that you don't have to slather all over your face. For that, I'd look no further than the Luminous Blur Stick ($36). Psst: it's available for preorder at MilkMakeup.com. Come Jan. 23, you'll be able to purchase it there and at Sephora.com.

Image Source: POPSUGAR Photography / Alaina Demopoulos