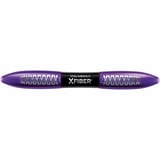 Every January, I know something special is coming to the drugstore: new mascaras. It's one of my favorite makeup categories to experiment with, since (A) I use Mascara every day, and (B) the pharmacy brands are usually just as good as the luxe ones. I like to splurge on high-end skin care, hair products, and certain makeup (like a chic lipstick), but mascara is a great area to save.
Last year, L'Oréal Paris was all about the Voluminous Lash Paradise Mascara, which we determined might just be better than Better Than Sex. In 2018, the brand has literally got my eye. Meet its newest lash baby, Voluminous X Fiber Mascara ($11). And it's calling my name.
I am obsessed with lash primers. My Lashes are a bit curly (like my hair), so the prep step helps keep strands from overlapping. The latest duel-ended wand from L'Oréal Paris offers a lash primer with a twist. The primer is black - unlike other versions that are normally pink, white, or even blue and not meant to be worn alone - so you can just rock that. Or you can layer the second formula over it.
The newbie is quite easy to use - even if you've never tried primer before. Each side of the wand is labeled either "1" or "2" so you know the order to apply them. The first side features a standard-looking wand. It is straight with a fatter section at the base, where you'd want more product and have denser strands. This glided easily over my thick lashes, giving them separation and length.
The second wand is curved to help curl lashes up. It also has a fiber-infused formula, which allows you to add many strokes without seeing buildup. I was impressed with the instant results.
Throughout the day, my lashes held their shape - even after I was face down on a massage table at the chiropractor for an hour. I did notice a bit of flaking later in the day, but it wiped away cleanly. Next time, I might top my eye look with setting spray to help avoid this.
What I love most about this product is it eliminates me having to carry around two tubes: a primer and a mascara. So I plan to make this a staple in my gym and cosmetic bags. Plus, if I am ever traveling and forget to pack a mascara, I'll be able to buy both a primer and a topcoat in one.
Voluminous X Fiber Mascara is currently available in Blackest Black Washable, Blackest Black Waterproof, and Black Washable. A shade dubbed Soft Black Washable will be sold come March.
Keep reading to see it on my lashes!