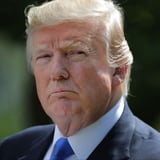 - Donald J. Trump (@realDonaldTrump) January 3, 2018
No, you're not in The Twilight Zone - this is actually a reality. The President of the United States sized up another world leader on the magnitude of his nuclear missile button, just as a toddler does while comparing their toy size with another young child. Sit back and let that sink in for a moment.
Besides the fact that this tweet proves our president is essentially a 4-year-old trapped in a 71-year-old's body (with similarly juvenile capitalization skills), it's also concerning that he's taking such outright jabs at a leader who has weapons of mass destruction at his fingertips. He just turned a gravely serious matter - one that involves the well-being of all Americans - into a joke, and it's frankly appalling. Needless to say, the entire internet took note of Trump's alarming "nuclear button" threat and expressed their concern over his audacity.
yeah lets not play this game

- abdul (@Advil) January 3, 2018
please stop, please log out, please go do your job, please don't do this

- Tyler Oakley (@tyleroakley) January 3, 2018
OMG! It sounds like this: child1: "my cock is so big!" Child2:" mine is bigger than yours and surely the biggest in the world!" 😁🎆🎉

- LaCiarla (@LaCiarla) January 3, 2018
When presidential rhetoric descends to the level of "mine's bigger than yours" https://t.co/DbloTdOM30

- Jonathan Freedland (@Freedland) January 3, 2018
Many commented on how dangerous his words are.
Let's not play chicken with a Mad Man who has nothing to lose. We the American people have a lot to lose if Rocket man gets one off.

- JT the Truth (@JT4America) January 3, 2018
Enough with the kindergarten arguments. This isn't a movie!

- IR.net (@IRdotnet) January 3, 2018
As a pilot in the @USNavy, I was trained to deliver nuclear weapons. EVERYTHING we did with these weapons was deadly serious. No jokes, no threats, no mistakes. Every soldier, sailor, airman and marine gets that. Feel free to reach out if you'd like to discuss this further. https://t.co/ovNlgNlluq

- Mark Kelly (@ShuttleCDRKelly) January 3, 2018
Not in a mood for Twitter jokes. This is dark & dangerous. I shudder for every parent of a son or daughter in uniform - and for us all.

- David Frum (@davidfrum) January 3, 2018
Others took a more humorous stance to make light of the dreadful situation.
pic.twitter.com/T3Ra0lm4Sq

- Conrad Williams😏 (@CnlConrad) January 3, 2018
Trump just bragged to Kim Jong Un about his "much bigger & more powerful" nuclear button, but there's no need to worry.

It's just locker room talk.

- Nick Jack Pappas (@Pappiness) January 3, 2018
The button we know about on the President's Desk summons a valet with a Diet Coke, but doesn't launch a nuclear missile. pic.twitter.com/DuAdC0knmY

- Mark Knoller (@markknoller) January 3, 2018