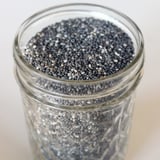 If the word Chia brings up a mental image of a clay creature sprouting hair, you are not mistaken. But the seeds responsible for sprouting fuzz on Chia Pets are also an excellent source of anti-inflammatory omega-3s. Who knew?
For women, the RDI of omega-3s is 1.1 grams (1,100 mg) a day, so if you're looking for a new source that's vegan, gluten-free, and easy to consume, you'll want to pick up some of these seeds immediately. One ounce of Chia Seeds (about two tablespoons) contains 137 calories, one gram of saturated fat, 11 grams of fiber, four grams of protein, 177 milligrams of calcium, and 4.9 grams of omega-3 fatty acids. Aside from offering omegas, when chia seeds come in contact with water, they bulk up just like flaxseeds do. So when you eat them, they make you feel full. This means not only will they prevent you from overeating, but they'll also improve your digestion.
A 16-ounce bag of chia seeds costs around $14 and will last a long time. They have a mild flavor and don't require much prep, so with a little creativity, chia seeds can easily be incorporated into your diet.
Drink and debloat: Celebrity trainer Valerie Waters recommends all her clients drink this debloating chia seed drink to start their day. By boosting levels of fiber and aiding in elimination, you'll be feeling free of bloat thanks to chia.
Blend into breakfast: High in vitamin C and boasting more than 10 grams of fiber, this refreshing antioxidant smoothie bulks up breakfast with some chia power.
Dress up your salad: Chia seeds and poppy seeds are similar in stature, so amp up the fiber and protein in this lemon salad dressing with chia seeds; the flavors are a riff on classic poppy-seed dressing.
Bake them into muffins: Versatile chia seeds are easy to toss into a classic baking recipe like these gluten-free blueberry muffins that are low in calories but full of tasty flavor.
Enjoy a sweet treat: Chia seeds and coconut milk marry for a Paleo-friendly pudding that works great for breakfast but feels like an indulgence. Mix together the ingredients the night before, pop it in the fridge, and look forward to it tomorrow. It's that easy.