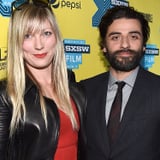 Like Oscar Isaac himself, the actor's dating life has been quite a mystery over the years, and it's about time we worked it all out. Although fans would like to believe that the Star Wars: The Last Jedi actor is in fact their boyfriend, he is actually taken . . . but is he married?
The short answer is that no, Oscar is not married, but we're sorry to report that he is definitely taken. Before we talk about the lucky lady who is currently attached to the X-Men: Apocalypse actor, let's break down what we know about his past romances.
While the Guatemala native has keep his personal life very private since he began acting - and making female fans swoon - he has been linked to at least one woman before his current flame that the press has been able to identify and follow closely.
According to numerous publications, Oscar's most public relationship was with Maria Miranda, who was reportedly his childhood sweetheart, and took place sometime in the early '00s. The two were very secretive and serious, so much so that the couple reportedly got engaged in 2007, but as far as anyone can tell they never tied the knot.
Although a few publications continued to report that Oscar and Miranda were an item well into 2015, based on photographs, they were actually identifying the wrong woman. Instead, Oscar began dating Elvira Lind - who he is currently in a relationship with - back around that time, which would make the couple an item beginning at least in January 2015.
What we know about The Promise actor and his current love, Elvira, who is a documentary filmmaker (her most-recent film, Bobbie Jene, was featured at the Tribeca Film Festival in 2017), is that the two are forever linked. The couple met more than five years ago, and have worked together in the past, creating a website called Staircase Sessions full of music acoustic videos beginning in 2013.
They've been together for at least three years, making their first public appearance at the Golden Globes in January 2016 - and simultaneously breaking hearts and making us love him even more, when the two kissed before Oscar received his award for Show Me a Hero. Then, in Spring 2017 they welcomed their first child together, making Oscar not only a hot actor, but a hot dad.
So there you have it: Oscar is not married, but he does have a child with his girlfriend Elvira, and we are so happy for this adorable little family . . . and maybe just a little jealous that it's not us.