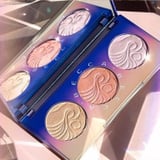 Chances are, we don't need to tell you how great Becca's highlighters are. From its mini powders to its shiny lip glosses, the beauty-girl-favorite brand is beloved for giving users an out-of-this-world glow. So get out your wallets, because there's a new, limited-edition Becca Palette in town - and it's going to light you up something fierce.
But as with adding any new release into your rotation, there may be a learning curve. The Becca Light Waves Palette ($34), which includes three Shimmering Skin Perfectors, might take a little getting used to. The hues are Moonstone, a gold; Prismatic Amethyst, a lavender; and the brand-new, exclusive-to-Light Waves Pink Sapphire, a chrome peach.
How, exactly, do you get these powders to look as pretty on your face as the colors do in the pans? Becca Global Style Director Kerry Cole gave us some ideas for getting the most out of Light Waves. According to Cole, Moonstone looks great when applied wet on the cheekbones or as a base eye shadow coat. She also loves layering Prismatic Amethyst over a colored lip gloss or swiping it over the tip of a wet coat of mascara for a frosty, textured lash look. Cole recommends using the newbie Pink Sapphire as a topcoat for your favorite blush. She also advised applying it over a clear lip gloss, because it omits a twinkling pop of pink that's the stuff Winter princess dreams are made of.
Of course, this is all just a road map; the final look is up to you, and (as always) experimentation is encouraged! But you won't be able to play around forever - like we said, this palette is limited edition, so sweep it up while you can.