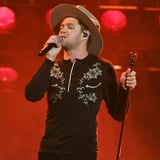 @chadkowal Hey Chad Did You See Niall Horan Performed Slow Hands on The American's Music Awards❓ pic.twitter.com/N3JYyCPhsw

- Nadia Anaya (@nadia_2401) November 20, 2017
Get ready, because you're about to fall even harder for Niall Horan. On Sunday, the singer was his usual charming self when he performed at the American Music Awards. After bringing down the house at the CMAs earlier this month, the One Direction singer, who took home the award for best new artist, made us melt into a puddle as he sang his dreamy hit "Slow Hands." Seriously, who can resist that beautiful voice?