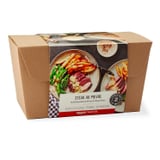 Is there anything Amazon can't do? Joining the popular meal-delivery-service industry, Amazon is launching its own meal kits, which will be available through its existing grocery service called Amazon Fresh. Much like some of the best food delivery services out there, like Blue Apron, HelloFresh, and Good Eggs, Amazon Meal Kits features individually packaged and portioned ingredients along with a step-by-step recipes meant to be cooked in a short amount of time. If the food is anything like Amazon's new Wickedly Prime snacks, then we know it's going to be good.
There's already an Amazon Meal Kit online for 30-minute steak au poivre with parmesan fries and snap peas, which comes with potatoes, parmesan cheese, garlic, beef stock, parchment paper, and more, but at press time, it was labeled "currently unavailable." To purchase the meal kits, you'll have to be a member of Amazon Fresh, which costs $15 per month and also requires you to be an Amazon Prime member. If you're a lazy cook or someone who really hates grocery shopping (and are already an avid Amazon Prime shopper), this takes care of most of the hassle for you and might be worth a try.
This exciting news comes shortly after Amazon's acquisition of Whole Foods. We imagine it's only a matter of time before the next food-related announcement from Amazon.