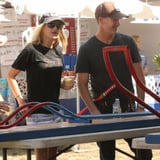 It looks like Anna Faris may have a new man in her life after announcing her separation from Chris Pratt in August. According to TMZ, the Mom actress is dating 47-year-old cinematographer Michael Barrett, with whom she was spotted at a carnival in LA on Sept. 9. The pair was also seen together at a restaurant in Malibu on Sept. 23.
Michael is credited as a cinematographer in her upcoming film Overboard. Although Anna has yet to comment on the romance rumors, sources told E! News that Anna and Michael were spotted having dinner together on what "looked like a date."
Anna recently spoke about her split from Chris in an interview with People, saying, "We'll always have each other and be incredible friends. We truly adore each other, and we love each other. I think it still comes through."